Keep on Truckin' in Chicago!
There are so many great sessions at this year's conference and so many great things to do and see in Chicago that finding time to get it all in can be difficult. After you hit the Museum of Contemporary Art, the Peggy Notebaert Nature Museum, go to the great sessions on how volunteers can support health and wellness in their communities and swing by Wrigley Field for a few pictures, the day is gone and you've forgotten to eat.
Fear not, intrepid traveler, because Chicago has some great restaurants. Chicago also has a lot of popular food trucks! Many of them don't have a set schedule so that they can travel around the city bringing delicious food to people around the city, so if one sounds interesting reach out and let them know you're coming!
A lot of the trucks don't have schedules set all the way out to mid-June for conference, but I bet if we start asking them nicely, they'll make a stop by McCormick Place to share their food with locals and conference attendees!
There's nothing quite like food slung out of the back of a Jeep. Local ingredients, family recipes, and hard work power the Schnitzel King to his throne. While he's no Abe Froman, it's still good to be the king (and you can still get a sausage from him). If you've got a craving for some schnitzel, let the king know on Twitter.
Imagine everything you lovebout food stuffed into a flaky pastry crust. That's right, a pot pie you can eat with your hands. They update their location on the Facebook page, where you can let them know that you're coming to Chicago and you'd love to try a pasty!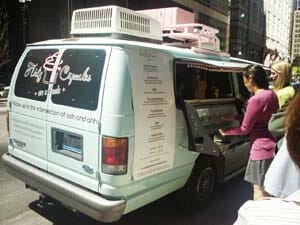 Where can you find the truck that brings you cupcakes? At the intersection of oohh and aahh, according to their site. If you're a fan of traditional flavors, or something less traditional (the Curious George is a banana chocolate cupcake with a light, salted caramel Italian buttercream frosting) then this truck will be right up your alley. And if you miss the truck you can visit the desert garage! Check them out on Facebook or Twitter to let them know you're coming to town!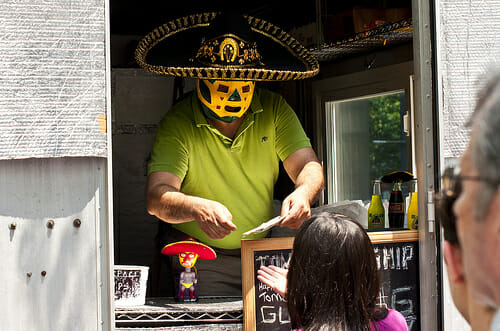 Yes, it's a truck, but wouldn't it be great if it were actually a rocket? Either way, if you're looking for great Mexican food served by a guy in a Lucha Libre mask, then get on board the spaceship. They have set locations for Tuesdays and Wednesdays, but they post on their Twitter and Facebook page where they'll be on Mondays. Let them know you want them to land at NCVS!
These are just a few of the food trucks we've heard about in Chicago. If you're looking for something else, check out this list of Chicago-area trucks and let them know you're coming to town!
Do you have a favorite Chicago food truck that isn't on the list? Let us know about it in the comments!
Share this post