Kickoff of ServiceWorks Engages the Heart, While Putting Muscle Behind Service as a Solution
Three national partners – one corporate, one nonprofit, and one from the federal government – spoke to the power of service yesterday in New York at a moving ceremony kicking off ServiceWorks, a 10-city initiative designed to use service as a strategy to help 25,000 young adults develop the skills they need to prepare for college and careers.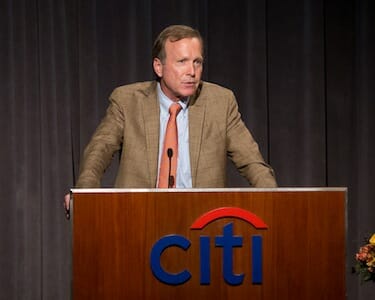 Points of Light Board Chair Neil Bush speaks about how ServiceWorks can help young people who feel they don't have anyone to set them on a path to success.
Citi Foundation Board Chair Ed Skyler said, "We want to focus on and make a big commitment to what we see as the biggest problem facing our country today: youth unemployment."
Points of Light Board Chair Neil Bush spoke of the thousands of young people who feel they are without anyone to set them on a path to success. "That's so painful to hear. That's something thousands of volunteers can change. I know that's why we're here today."
And Corporation for National and Community Service CEO Wendy Spencer said, "This is a beautiful thing. It's what Congress has charged us with: investing federal dollars in programs that work."
The event – which featured poems from Grammy Award-winning artist J. Ivy, along with music, dance and inspiration – kicked off a national program unique in many ways.
ServiceWorks will be a massive demonstration of the power of service as an intervention in young lives. The program will give tens of thousands of young adults training in critical 21st century leadership and workplace skills, the chance to build their networks and connections to community, and the opportunity to use their new skills by participating in, and leading, volunteer service projects.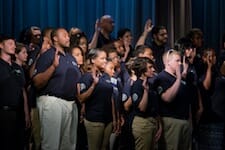 New AmeriCorps VISTA members get sworn in at the ServiceWorks kickoff ceremony.
ServiceWorks will be a large-scale volunteer response to the crisis of low career and college attainment, mobilizing thousands of volunteers – including Citi employees – as coaches, mentors and trainers.
ServiceWorks will be the nation's largest corporate-sponsored AmeriCorps VISTA program, including 225 AmeriCorps VISTA members over three years.
ServiceWorks will unite the Citi Foundation, AmeriCorps and Points of Light in a powerful public-private partnership – the kind President Obama and other national leaders have been calling for – to solve our nation's most critical problems.
ServiceWorks will unite a large group of nonprofit host agencies, using their collective experience in supporting the goals and dreams of our nation's young people. The host sites are:
Boston – The Boston Private Industry Council
Chicago – Casa Central
Dallas – The Volunteer Center of North Texas and CitySquare
Los Angeles – Public Allies
Miami – Greater Miami Service Corps
Newark, N.J. – Jersey Cares
New York – The Door
San Francisco – Public Allies
St. Louis – United Way of Greater St. Louis
Washington, D.C. – Covenant House Washington DC
ServiceWorks will change so many lives, beginning with those of the 45 new AmeriCorps VISTA members who were sworn in yesterday. One of them, Abe Sierra, explained that he grew up in Boston, with few resources and fewer role models.
"I got kicked out of school," he said, "but others who served in my community became an inspiration to me." Thanks to them, Sierra said, "I got my GED, I'm currently enrolled in college, and I joined CityYear last year, which turned out to be a life-changing experience." This year, Sierra will continue that "ripple effect of service" as a ServiceWorks AmeriCorps member in Boston.
"We're the small motor that will spark the bigger motor of change," he said.
Share this post