Look How These Volunteers Show Compassion for Young People in Their Community
Today we recognize three volunteers we learned about through the United Way of King County in Seattle, part of Points of Light's HandsOn Network – 250 volunteer centers across the globe. To find a center near you, visit the HandsOn Network map.
Fighting Childhood Hunger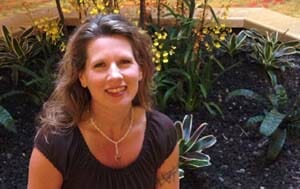 McKenna Knight
McKenna Knight is a driving force behind the Healthy HIP Packs Program, a project of Hunger Intervention Program, at John Rogers Elementary in Seattle. The Healthy HIP Packs Program gets nutritious and kid-friendly food into the hands and mouths that need it most. Each Friday at several schools in north Seattle, backpacks are discretely filled with six meals and two snacks for 40 children per school who are at risk of hunger. So over the weekend, when school meals are not provided, the children are still able to eat well.
The collection, sorting, distribution and packing for this program takes a lot of volunteer support, and at John Rogers Elementary, this couldn't be done without Knight's coordination. Plus she supports the program by networking, helping to raise funds and garnering community support. She is the kind of volunteer who generates great ideas and is willing to do the work herself.
Getting School Supplies for Kids in Need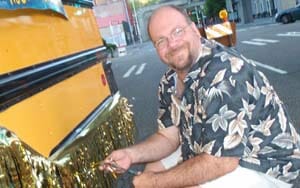 Jerry Johnson
How much do you think a family spends per child on school supplies? On average it's between $60 and $100 each fall – and many families have more than one child in school. Not to mention the fact that teachers spend an average of $400 of their own money to cover classroom supplies.
Communities in Schools of Seattle organizes an annual Stuff the Bus campaign during the summer to help low-income families manage these costs and ensure that students are able to start the year with sufficient supplies.
For the past five years, Jerry Johnson has played an integral part in Stuff the Bus, which collects more than 50,000 school supplies for Seattle Public Schools students in need. As a volunteer, he drives the bus across Seattle to pick up supplies from collection sites collection events. His energy and enthusiasm pump up the entire team.
Showing You Can Give Back at Any Age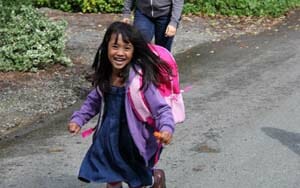 Eden Heu-Weller
Eden Heu-Weller volunteered at Friends of Youth's administrative offices for the first time at age 5, on a Wednesday in January 2013. She arrived with her nanny. Eden spent her first day counting name tags for Friends of Youth's annual Celebration of Youth luncheon, and she and her nanny have returned to volunteer every other Wednesday since.
Friends of Youth's youngest volunteer, Eden has labeled and sorted volunteer packets, made thank-you cards, stocked food, organized toiletry bags and greeted attendees at a ribbon cutting. She is now 6, and she recently finished helping Friends of Youth prepare for another Celebration of Youth luncheon, counting and sorting name tags and helping stuff packets.
Share this post