17 Tornadoes and a House Fire Would Get You Thinking About Getting Prepared, Too
Read about how folks in Maine and Texas are preparing for disaster. To help your family take action, visit Good & Ready, where you'll learn how to create a disaster plan, build a preparedness kit and more.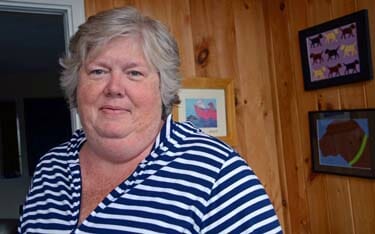 Audrey Castro
As a child, Audrey Castro survived tornadoes and a house fire, shaping how she and her family prepare for emergency.
"With my husband and kids, we've always had an escape plan," said Castro, 53, who lives in Cape Elizabeth, Maine, a suburb of Portland, with her husband and children, ages 18 and 21. "When they were little, our kids knew what to do if they heard a smoke alarm go off. We bought ladders to hang from their bedroom windows to be able to get out, and they knew to head to a neighbor's yard to a particular tree. We made them take a first-aid class." (Watch a video of Castro here.)
Nearly 60 people died on April 21, 1967, when 17 tornadoes hit northern Illinois in one day. With the sky darkening and alarms sounding, Castro – 6 at the time – and her family rushed to their basement safe room to cover themselves with mattresses. Five years later, while living in Portland, a middle-of-the-night fire caused by a cigarette ember in a trash can forced Castro's family out of the house, fleeing heavy smoke. In both cases, they survived, unharmed.
Today, Castro's family takes no chances: "Everyone in our house has a flashlight on their nightstand, and they're in the bathrooms. We have gallon jugs of water in the garage, along with snacks. It's the same thing with our cars. We have our valuable belongings videotaped. It's just better safe than sorry … because you just never know what's going to happen."
Carlos Libby of West Gardiner, Maine, at the Portland disaster preparedness event, explains why he feels preparing for disaster is critical. (Click photo for video.)
That was the message relayed at recent disaster preparedness events in Houston and Portland, Maine. The Allstate Foundation and Points of Light have teamed up for a 14-city tour to help people around the country become better prepared for emergencies.
People attending these events – with the help of volunteers from Allstate and affiliates of Points of Light's HandsOn Network – assembled starter disaster preparedness kits. Participants received blue bags to fill with kit items and attentively listened as they made their way down a line, as each volunteer explained an item to add to their kits.
The donated kits included items such as a whistle, a flashlight that doesn't require batteries, a mini first-aid kit, a poncho, a mask to wear if debris is in the air, a water receptacle, a trash bag, hand sanitizer – and brochures and handouts that provide a variety of emergency information.
"The event today is just to remind people that disasters occur," said Adam Pisani, an Allstate agent in Sugar Land, Texas, who volunteered at the July 26 tour stop at the Houston Museum of Natural Science. "They occur when we least expect them. And so being prepared is very important," Pisani said.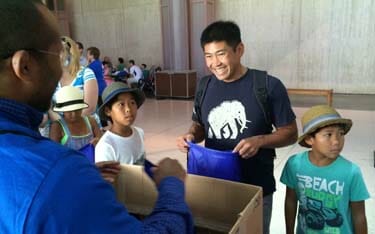 A participant at the Houston disaster preparedness event gets help filling his disaster kit from a volunteer.
At the July 29 Portland event, held at a Sea Dogs minor league baseball game, Allstate spokesperson Julia Reusch noted that only about 15 percent of Americans would be considered prepared for a disaster, and these educational events aim to change that.
The goal is to teach people how to "build a kit that will help them be prepared and have enough to sustain them for 72 hours in the event of an emergency," Reusch said. (Watch a video of Reusch here.)
Event participants said they appreciated the opportunity to learn about, think about and prepare for disaster.
Kristen Lue King, who put a kit together with her 9-year-old daughter at the Houston event, said the exercise was a great lesson for her child: "This helps show her that while there's a reason for concern, there are some practical things you can do."
Share this post