New York Times Profiles Points of Light Civic Accelerator Grad
OpportunitySpace, a startup that graduated from the Points of Light Civic Accelerator last fall, got a big boost this week when the New York Times profiled its work engaging communities to drive smarter use of public land and buildings.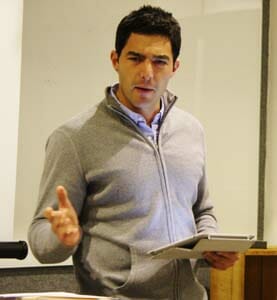 Alex Kapur presents OpportunitySpace at a fall 2013 Civic Accelerator workshop.
Founded by two graduates of the Kennedy School at Harvard University, Cristina Garmendia and Alexander Kapur, and with a dynamic, lean team that includes Nico Tejera and Andrew Kieve, OpportunitySpace has a mission to create a public database for developers that makes it easy to access information about publicly owned buildings and land. So far, it has listings in Louisville, Ky., and in several cities in Rhode Island, including Providence.
"It just seems like the knowledge set for how to invest and develop is limited to such a select group of people that there's an opportunity to use technology and data to open up access to this market," Alex Kapur told the Times.
Read the New York Times article here. (And read a post about OpportunitySpace by co-founder Garmendia here.)
Together with our founding partners, PwC Charitable Foundation and Starbucks Foundation, and SAP, Committee for Children and Hilton Worldwide, the Points of Light Civic Accelerator is seeking innovative social ventures that are working to create greater, more accessible pathways to economic opportunity in communities across the U.S. Applications for the fall 2014 Civic Accelerator will be accepted until Aug. 15. Apply now!
Share this post