Kids Play While Moms and Dads Get Cancer Treatments
Meet Amy Paterson of Portland, Ore., one of this year's Points of Light Tribute Award winners.
As a 34-year-old mom fighting breast cancer, Amy Paterson often found herself scrambling for childcare for her 2-year-old son before many of her 144 medical appointments.
It was another layer of stress, even with support from her husband, family and friends.
"It would have been great if there had been child care at the hospital just like there is at the gym and Ikea and all these other places that parents go," says Paterson, who was diagnosed in 2006.
So Paterson co-founded My Little Waiting Room, one of the first drop-in childcare centers in a hospital setting in the country. Operated by Volunteers of America Oregon, My Little Waiting Room is fully licensed and able to care for up to 15 children – ages 6 weeks to 10 years old – at a time. Care is provided on a suggested donation basis.
"My Little Waiting Room brings drop-in care to the hospital, so that children can thrive while families heal," Paterson says.
In just a few years, My Little Waiting Room has had more than 15,000 child visits, providing relief to families who need care at Providence Portland Medical Center. Success has sparked similar concepts in the region and the attention of hospitals and service organizations across the U.S.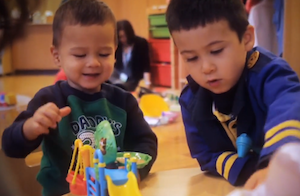 Paterson describes how some of her most memorable experiences with My Little Waiting room involve the parents who use the service: "A father who came to us had tears in his eyes and he said, 'This will change my life.' And then there are the moms who are just in need of a little bit of help because they are juggling their own health and their kids."
Paterson, who has regained her health, urges people to learn from their personal experiences to help others, as she has.
"Anyone can make a difference, and the important thing is to find what your strength is and then find a place to put it," she says. "Be that point of light, because the world needs you."
Share this post