For Kids, Volunteering Can Be a Fun Play Date, on Friendship Day or Any Day
"Volunteering can be fun. And you can make a difference just by going to the park and cleaning up," says 10 year-old actress Emmy Perry, best known for her role as Kitty in "Wiener Dog Internationals" and currently filming the feature film "Scales." "You can help your community; it's really easy. You can make it a play date."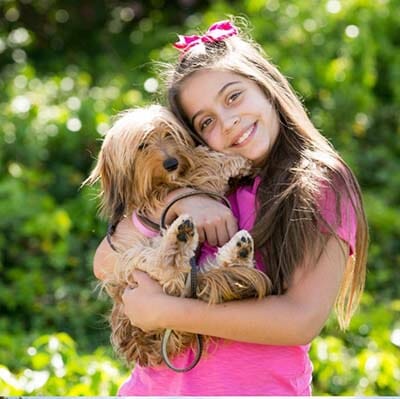 Emmy Perry
Volunteer service has always been an integral part of Emmy's life. She makes use of all the resources at her disposal – including her celebrity platform and passion for animal welfare – to give back.
She started Emmy's Hope, a Laguna Beach, California-based charity devoted to helping homeless animals, and often includes friends in her efforts. For her past few birthdays, for example, Emmy has enlisted friends in providing supplies to animal shelters.
"I get my friends involved," says Emmy, who gave up her last movie paycheck to help save a homeless dog. "I ask them to buy things off the shelter's wish list for the animal shelters I volunteer at, on my birthdays."
Now Emmy is asking kids around the world to get involved for International Friendship Day, July 30. She recently shot a public service spot to show how something as simple as cleaning a park with friends can be fun and make a difference in the community.
"She told me about how good she felt doing it because the trash affects the animals," says Emmy's mom, Elaine. Emmy told Elaine that she "would rather pick up the trash than have it end up in a bird's mouth."
Watch Emmy Perry, pictured left, in this 30-second spot, as she shows how fun cleaning up a park with friends can be.
The public service announcement was filmed as part of the generationOn and Hasbro, Inc. My Little Pony brand Friendship Day campaign – a global initiative that encourages kids to volunteer with friends in their schools, neighborhoods or broader communities.
The campaign is tied to International Friendship Day – a day when children and their families from all over the world are invited to celebrate friendship by completing acts of kindness and volunteering.
Emmy's passion drives her action and makes giving back fun, particularly when her friends are involved. Her proud mom offers advice to other parents who want to get their kids interested in volunteering.
"Have a heart-to-heart with your kids to find out what they are passionate about. Then use that passion to get them involved," Elaine says. "Kids are capable of so much more than we give them credit for."
Click here to watch Emmy's 30-second public service spot, and please visit www.generationon.org/friendship to learn more about Friendship Day.
Share this post