Laureus Uses Sport to Serve Youth, Bridge Divides and Bring Communities Together
In Atlanta, Ga., youth in underserved neighborhoods just blocks from where the Atlanta Hawks basketball team plays can learn about the sport while being mentored in healthy lifestyles, exercise and social skills, thanks to a local program called Hoops University.
In Kenya, Africa, an initiative called Boxgirls teaches girls and young women up to age 23 the sport of boxing – giving them self-defense skills as well as a feeling of empowerment to succeed in a male-dominated society.
Both initiatives are among more than 200 sport-related programs in 40 nations that receive funding through Laureus Sport for Good, a global charity that works to address violence and discrimination affecting disadvantaged youth. Laureus Sport for Good was founded under the patronage of the late Nelson Mandela, president of South Africa from 1991-'97, and a lifelong philanthropist and activist against racism.
"Globally, we're working to tackle violence, discrimination and  disadvantage through the power of sport," says Adam Fraser, Chief Executive of Laureus globally. "Programs in South Africa use surfing to provide mental health therapy sessions for kids with trauma; programs in favelas in Brazil are using soccer to bridge the divide between different gangs," said Fraser. "It runs the gamut in terms of sports being used and problems being addressed. We're trying to support local community grassroots organizations to empower them."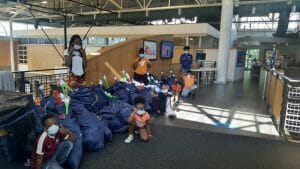 Regardless of the sport or location, Sport for Good programs rely on dedicated volunteers.
Many volunteers have personally experienced the benefits of playing sports as a child or teen and are now using the organizational and leadership skills they've honed as adults to bring sports opportunities to disadvantaged youth.
For example, Tarin Berry has a career as director of operations at the metro Atlanta YMCA. As a volunteer member of Laureus Sport for Good's Atlanta Leadership Council, which includes 10 other passionate community leaders working to solve local challenges collaboratively, Tarin helps to match community youth programs with high-powered supporters in the form of corporate executives or professional sports teams.
"I've developed professional relationships with all of the professional sports teams in Atlanta for the Y, and I've continued those relationships, so when it came to do the (volunteer) work with Laureus, it was such an easy fit and so easy to pick up the phone and call on them for resources," said Tarin. "A lot of what I bring to the table is project management and keeping things on task."
Even though Tarin is also a busy mother of four, she volunteers for Laureus because sports made "a huge difference" in her own life. She grew up in a family that moved across the country often. "Sports was the one constant," she says. "I could go anywhere and pick up a softball and fit in. I was never amazing in sports, but it gives kids confidence, the ability to work with a team and a sense of achievement. I can't even imagine where I would be, even in my professional life, if I had not had the experience of playing sports while growing up."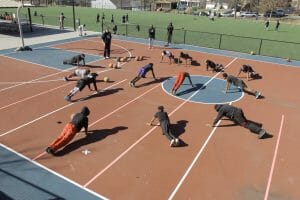 On the other hand, La'Teef Pyles, who serves on the same leadership council, is more hands-on when it comes to helping kids play sports. He leads one of those grassroots neighborhood groups for underserved youth that is now receiving financial support from Laureus Sport for Good.
A barber by profession, La'Teef lives and operates his business in downtown Atlanta. He started Hoops University to teach local kids to play basketball, while working in lessons about healthy living.
La'Teef said he's grateful for diverse training in coaching, mental health and fitness that Laureus Sport for Good has funded.
"I'm obsessed with basketball – I would teach anybody," says La'Teef.  But he's especially proud to be called "Coach" by kids in the immediate neighborhood, which reminds him of the South Side Chicago area where he grew up. His parents wanted to be sure he had good influences in his life, and he strives to be that good influence for others.
Adapting to the pandemic
When the 2020 pandemic kept basketball participants from gathering at a neighborhood park, La'Teef installed a basketball hoop in his own backyard, where kids can practice in a socially distanced manner. They also get to see La'Teef in his barber shop, meeting more role models among his customers.
"These guys come by here, they subconsciously see a man of color conducting business, responsibly supporting his family and giving back to the community," said La'Teef.
Meanwhile, Tarin Berry used her connections during the pandemic to help Laureus Sport for Good put together special gift packages of high-quality sports equipment and clothing that were distributed to disadvantaged families along with food donations so that kids could stay physically active, despite the disruption in normal athletics.
Promoting safety beyond COVID-19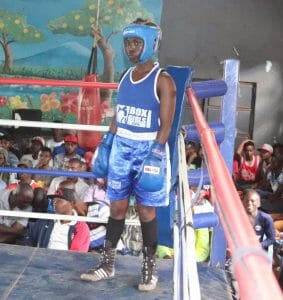 In Kenya, volunteering led to a paid job at Boxgirls for Cynthia Coredo, who has worked with the organization since 2008. She had experience working with computers and wanted to share her skills for a good cause. She now manages fundraising for the program.
Boxgirls was created when two girls asked to participate in boxing lessons offered by a local boxing coach, Analo Anjere, popularly known as Priest, who was teaching kids in the Kariobangi district of Nairobi, Kenya's capital and largest city.
Today, Boxgirls also serves girls in rural areas as well as in the city. Currently, about 2,655 girls are enrolled, and the program has an 80 percent retainment rate.
"We use boxing as the entry point to really advocate for girls' empowerment," said Cynthia. "We believe it's very important to be change agents to give girls and young women a voice." In a society where physical and sexual violence against women has become a national crisis, Cynthia says it's important to emphasize the ideology that women deserve an equal chance at an education and have a right to a safe life. In addition to learning boxing and participating in tournaments, girls are given leadership mentoring, reproductive education and practice in running a small business, for example, the group makes and sells handbags.
Volunteers work with the girls, but also reach out to parents and schools, to raise enthusiasm for helping the girls to succeed and encouraging them to stay in school and also participate in the Boxgirls training sessions. "We use them as a point of contact in the schools," said Cynthia.
At least one girl who went through the Boxgirls training has been so inspired that she is now volunteering as a mentor to other Boxgirls participants, encouraging the next generation to become adult leaders and coaches in the program.
To learn more about Laureus Sport for Good, visit www.laureus.com/sport-for-good.
Share this post