Learnings From the Civic 50: America's Most Community-Minded Companies
Today's post is written by Elissa Gathman, Corporate Services Fellow at Points of Light.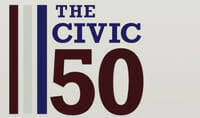 During the 2013 Conference on Volunteering and Service, I had the pleasure of attending, "Learnings From The Civic 50: America's Most Community-Minded Companies," a workshop that featured three leaders from the top 50 companies of 2012.
This workshop drove home the value of incorporating social responsibility into corporate strategy, and of companywide involvement in addressing community needs. It was inspiring to hear these leaders discuss the key trends they are most excited about in the world of corporate social responsibility (CSR).
Susan Portugal, senior vice president and CSR philanthropy director of Bank of America, highlighted the change in partnerships between companies and nonprofits, which now go deeper than just dollars. Today, companies and nonprofits are establishing longer term and evolving relationships that are mutually beneficial.
Janine Rouson, director of global volunteerism and corporate citizenship of GE, focused on the direct tie-in involving volunteerism, leadership development and positive company image. "No longer should volunteerism be looked at as something that's separate and to the side," Rousen said, as she pointed to the value of employee volunteerism for professional development, character building and community connectivity.
Tracy Moore, group manager of community relations for Target, said she was excited about the shift in the movement of community-minded companies embracing a more impact-oriented mindset. She explained that leaders are now asking deeper questions about the depth and social impact of their company's CSR programs, and noted that companies that embrace this trend attract millennials, whom she called "a generation of people who want to contribute. They want to work for a company that does no harm."
To round out the workshop, the opening of the 2013 Civic 50 survey was announced. This year, The Civic 50 – an initiative that identifies the country's 50 most community-minded companies – is partnering with True Impact, and will be focusing on key elements of community engagement: civic commitment, strategic resource allocation, business integration, company policies and measurement. All S&P 500 companies are eligible to take the survey, which will remain open through August 16. The 50 most community-minded companies will then be featured by Bloomberg in early December 2013.
To take the survey, visit The Civic 50 website: civic50.org.
Share this post