An Experience to Remember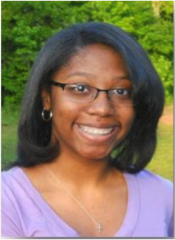 Today's post is written by Tiffani Alexander, 14, of Covington, Ga., founder of Butterflies, Beetles and Bees, Oh My! – a club she runs in partnership with Prevent Child Abuse Rockdale. The club teaches children how to care for and nurture small insects and how they can apply those skills to interact with people. Tiffani inspires other young people to get involved in service as a National Youth Advisory Council member for generationOn, the youth enterprise of Points of Light.
As I walked into the opening session of the recent Conference on Volunteering and Service with the rest of the generationOn Youth Advisory Council, everything became surreal. We were at the front of the room, in the midst of cameras and important people in the service world. I never thought that helping my community could get me here at such a young age.
People from all over the country and several other countries attended the conference in hopes of enhancing their skills and getting new ideas to take back home with them. While sharing my service story, I was honored by being asked to share some of my lesson plans with volunteers from other countries.
America's Sunday Supper was a high point for me. During Sunday Suppers, held across the country, people from different backgrounds come together to discuss issues in their communities over a meal. In addition, it focuses on engaging youth in service work. This movement was inspired by Martin Luther King Jr.'s belief that we can all put our differences aside to make a difference in the world.
Some of the exciting happenings at this event included a speech from Lauren Bush Lauren, CEO and Co-Founder of FEED Projects; the introduction of the Target FEED USA line, to help fight hunger; and a speech and performance from Grammy award-winning singer John Legend.
One of my favorite moments at the conference was attending a session led by Steve Culbertson, president and CEO of Youth Service America, who said that in order to successfully engage youth, we need to find out what their interests are and get them excited about helping. He got me thinking about how I can better engage youth volunteers in the service projects I coordinate.
The conference left an indelible mark on my life. It showed me that service is not what you do, it's simply who you are!
Share this post