Let's Leverage Our National Investment in AmeriCorps to Build Civic Leadership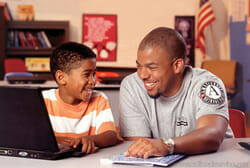 This post is by Ben Duda, executive director of AmeriCorps Alums, and Mary Bruce, chair of the AmeriCorps Alums National Advisory Council.
Since AmeriCorps was launched 20 years ago, nearly 1 million Americans have served, working to address our nation's most pressing challenges. They've tutored in our toughest schools, provided emergency relief services after tornadoes and hurricanes and helped veterans get connected to employment opportunities.
Many of these AmeriCorps members directly link their success today with their service experience. Kellie managed volunteers during a disaster and now works on a global crisis management team for a major retailer. Traymone was a wildlands firefighter while in AmeriCorps and uses those same teamwork and leadership skills in managing military veterans in service. And Katie tutored young people and is now working in corporate philanthropy, guiding a Silicon Valley technology firms' employee volunteering program.
These individuals were "made in AmeriCorps" and, each day, they continue to make America stronger.
Sadly, their experience is not universal. Many AmeriCorps alums are having a tough time finding a job. One alum served a successful term with a small town mayor, increasing resource allocations to communities in need. He's now working shifts at a pizza joint. Another, who managed teams of volunteers retrofitting homes to higher energy efficiency standards, has been searching for a job for more than six months.
These individuals were "made in AmeriCorps," too, but they're not making it. They have skills that employers say they want but can't find – in problem solving, teamwork and project management – and yet they can't find a job.
A McKinsey survey of 2,000 U.S. companies found that two-thirds report difficulty in filling job vacancies because applicants have unsuitable work habits or insufficient experience. AmeriCorps alums – who have demonstrated dedication, commitment and skills – could help fill this gap. Yet there is no system connecting national service alumni with employers most in need of new talent.
We at AmeriCorps Alums are working toward a solution by launching bold new partnerships and programs to strengthen the pipeline of leadership. We're making increased investments in professional development initiatives for alums, including adding a career coach to the national team.
We recently launched an "Employers of Service" campaign to celebrate public, private and nonprofit employers that actively support the recruitment, hiring and professional development of AmeriCorps Alums.
We announced a partnership this week with BoardSource to target and train women and people of color as prospective board members for local nonprofits.
We're also calling on the federal government to extend hiring preferences to all full-time national service members. And, to help Alums continue to develop their skills, we're calling on institutions of higher education to join the more than 100 colleges that already match the Segal AmeriCorps Education Award that all alums receive.
AmeriCorps Alums isn't in this alone. The Peace Corps recently launched Career Link, a job board that carries on the proud, 50-year tradition of connecting returned Peace Corps volunteers with post-service career and education opportunities. New Politics (founded by an AmeriCorps alum) is working to elevate national service alums to political office, and the Veteran's Campaign (founded by a veteran) is a similar initiative focused on veterans.
The nearly 1 million AmeriCorps alums nationwide are uniquely positioned to be the nation's 21st century civic leaders. They've demonstrated their commitment. They've cultivated their talents. They're hungry to lead. Now we must leverage our investment to pave the way for continued service to community and country.
Share this post