Change Notes: Points of Light Conference Highlights – My Top 10 List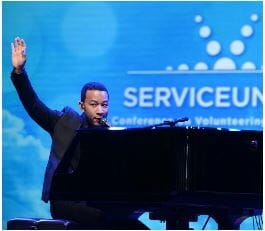 Dear friends,
One week ago today, Points of Light's 2013 Conference on Volunteering and Service convened in Washington, D.C.. Reflecting on an amazing week packed with speakers, workshops and events, I'm having trouble picking just a few high points to share. After a bit of squeezing, here are my top 10:
The heartfelt talks from Special Advisor to the President Valerie Jarrett, New Jersey Governor Chris Christie and nine-time Grammy Award-winner John Legend.
The nearly 5,000 participants who traveled from almost every state and 47 countries to attend and to lead the volunteer movement.
Our sponsors – title sponsor Chase, along with Target, Capital One, Disney, Gannett and UPS – who made the largest convening of volunteer, national service and civic leaders in the world possible.
Political strategists Karl Rove and Donna Brazile, dancing together to illustrate our theme, Service Unites, and showcased for  readers of the Washington Post, BuzzFeed, Politico, TIME magazine and many other outlets.
The launch of One America, a nationwide, yearlong campaign Points of Light is leading, with founding support from Chase, to bring together rivals in politics, entertainment and sports with the goal of inspiring millions to unite in service to their communities.
Democrats and Republicans from both sides of the aisle – Sen. Dan Coats, Sen. Johnny Isakson, Sen. Tim Kaine, Sen. Carl Levin, Rep. Joaquin Castro, Rep. John Lewis, and Rep. Jim McGovern – coming together to support America's volunteers.
The announcement that more than 500 companies committed to provide more than $2 billion in pro-bono service through Billion + Change.
Wharton professor and New York Times bestselling author Adam Grant challenging nonprofit and business leaders to empower the "givers" among us and thereby unleash the potential of our teams.
Chairman of the Joint Chiefs of Staff General Martin E. Dempsey's powerful call to engage and support more veterans and military families through volunteer service.
The volunteers who came out in force to clean up the National Mall, assemble100,000 mac-and-cheese kits for those in need, and package school readiness kits for D.C. children.
You'll find more highlights, stories and photos in the Conference wrap-up here.
And you can find out more about our One America campaign here. Please visit and tell us who you'd like to see unite in service. Rival college basketball teams? Competing news anchors? Superheroes and villians? We'll collect the best pairings and let you vote on which ones we'll ask to come together to serve.
It was a whirlwind few days packed full of inspiration. Thanks so much for all you to every single day of the year to lend a hand and strengthen communities worldwide.
Hope to see you in Atlanta next year!
In service,

Michelle Nunn
CEO, Points of Light
Share this post