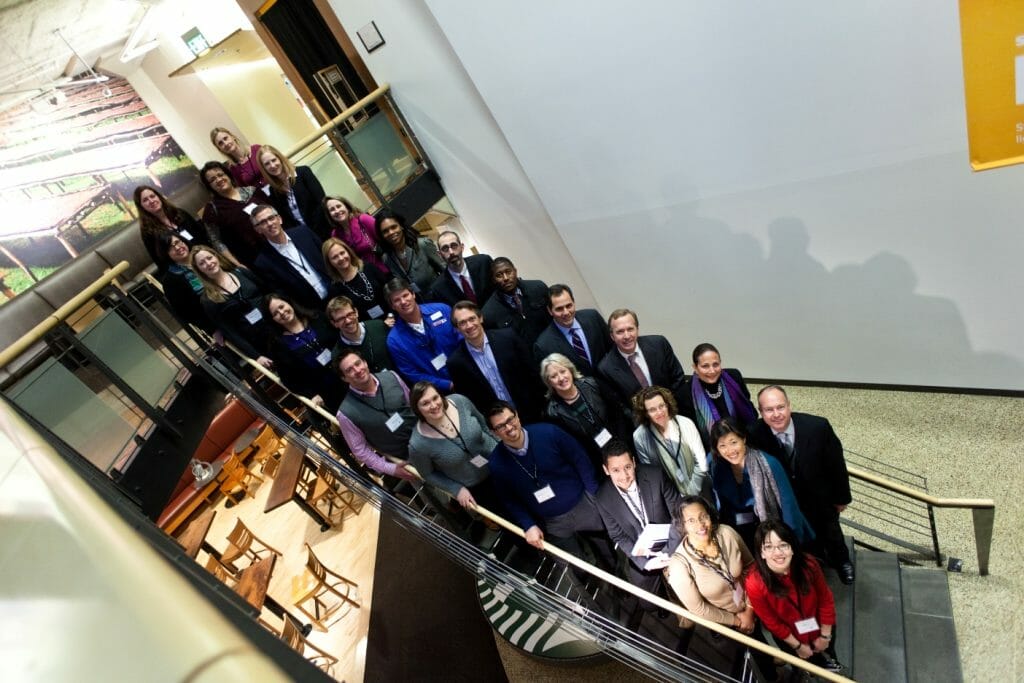 Corporate Service Council- Photo Courtesy of Points of Light
Today's post is written by Daniel Horgan and republished from his blog "Discover U: Carpe Diem" on March 11, 2012.
This past week, I had the opportunity to travel to Seattle and attend the Corporate Service Council, a convening of the Points of Light that is structured to share innovations in corporate volunteerism, corporate social responsibility and corporate philanthropy as well as advance networking and problem solving discussions.  My experience with the Council caused me to recall an important quote from Andrew Stanton, the filmmaker for "Toy Story" and "WALL-E" as well as a recent TEDspeaker on the topic of storytelling: "Make me care."
The message behind Andrew's three words is that to advance our passion and influence people, we must play the role of a storyteller and bring  people on a journey that illustrates for them why they should care about that which lights a fire in our belly.  The Corporate Service Council engages representatives from close to 75 companies around the globe including Starbucks, Kraft, Disney, Accenture and Chase.  These companies employ hundreds of thousands of people and reach even more through their customers, community relations and marketing.  There exists not only an opportunity but an obligation for these companies to "nudge and inspire the human spirit" as Cliff Burrows, President of US & Americas Starbucks Coffee Company, shared with us.
It was with this principle in mind that Starbucks launched their job development and small business loan campaign by investing $5 million from their foundation and inviting customers around the country to contribute to awakening the American economy.  It was a bold move to step out front, to lead, and to shine a spotlight on an issue that is tearing communities and families apart.  As a masterful storyteller that relies on bringing people from diverse walks of life around a community table over a cup of coffee, Starbucks has made me and hundreds of others care to the tune of an additional $3 million invested in small US businesses over the past several months.
Another speaker at the Council, Eric Liu, Founder of Guiding Lights Network, reminded us that "society becomes how we behave" and that "we're all better off when we're all better off."  There is this "fierce urgency of now" that companies of all sizes and industries must join forces with nonprofit organizations, schools, foundations, civic groups, and individuals to combat the complex issues plaguing our society.  These issues are only growing more complex and can not be resolved at the hands and resources of one player; a collaborative approach is required if we are to spark a movement in which more and more people care, engage and remain committed.
While it is important for all players in this game of social change to maintain their own identity, to differentiate their investments of time, talent and treasure, it is equally critical that "community" remains at the forefront of our actions.  We must not lose sight of the fact that communities dictate our success.  When schools flourish with strong leadership, well-supported and trained teachers and academically successful students, a strong and robust workforce emerges.  When nonprofit organizations have the resources and the capacity to advance wrap around support services to residents in need and ultimately reduce the dependency on a social safety net, communities thrive with residents reaching their full potential.  When businesses "do well by doing good" they have more satisfied employees and loyal customers that will propel their growth and development.
When we all care, the story of our lives is richer.  And we will all believe, in the words of Marianne Williamson, that "playing small does not serve the world."  So I continue to challenge myself and you to "make me care."
Share this post