Friday Volunteer News Round Up For AmeriCorps Week!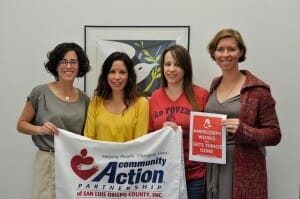 AmeriCorps Works Here! Alums Jill (2010-2011), Francine 1997-1998, 1999-2000), Bryn (2008-2010), and Amanda (2007-2009) working for the greater good at Community Action Partnership of San Luis Obispo County.
Happy Friday! This week was AmeriCorps Week, and we have themed our news wrap-up this week to reflect all the good that AmeriCorps does, and show how AmeriCorps Works throughout the country. If you are an AmeriCorps member and have not taken part in the photo project– follow the link to find out what that's all about!
Check out what our enterprise, AmeriCorps Alums, has been doing for the week. Thanks to all the AmeriCorps current and past members who have made meaningful changes to communities- your work is appreciated! See below for inspiring stories of the week-
Share this post