My Turning Point Happened When I Signed Up To Be A Big Sister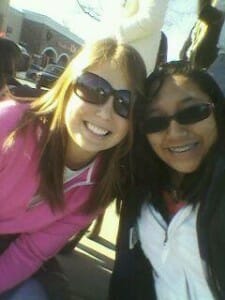 The theme for this year's National Conference on Volunteering and Service is "Turning Point." At Points of Light, we are highlighting turning point stories – stories about the moment or moments that inspired your service. Today's Turning Point comes from guest writer, Lizzy Seymour, manager, Conference Operations for the National Conference on Volunteering and Service convened by Points of Light. Lizzy leads the Conference registration system and is involved in event planning for several Points of Light initiatives throughout the year.
When I was 5 years old, my parents gave me the nickname Little Miss Helpful – based on the "Little Miss" characters in the children's books by Roger Hargraves – because I was always eager and willing to help with chores, volunteer at church and with my Girl Scout troop. I liked the feeling of "doing good" and it was fun being part of the community.
As I grew older, my desire to help led to a desire to help others. In high school, I dreamed of being a physical therapist and helping people recover from injuries. But after enrolling in anatomy and a physical therapy introductory class at a local college, I quickly realized my talent did not lie in the medical field and that a career as a physical therapist wasn't for me.
In college, I joined a sorority and became active on campus. Being "Greek" meant completing community service hours, and while some of my sorority sisters complained about the required volunteering, it hit me: this is how I can use my talents to help others! With an eye for details, I joined a committee on campus that planned a year-long fundraiser for St. Jude Children's Research Hospital in Memphis, Tenn. It was at this point in my life that I realized I could use my event planning skills and education to help people.
After college, I took a position at the Arby's Foundation where I planned fundraising events to support local Big Brothers Big Sisters agencies. Since I was working so closely with Big Brothers Big Sisters professionally, I was driven to apply to volunteer my personal time to become a Big Sister. That's when I met Ali – a 9-year-old girl who needed a friend and mentor – and now we have been matched for four years.
Ali loves art and music, singing, dancing, painting and playing the viola. Ali and I have done all sorts of things together, but our favorite activity was spending time helping others by volunteering. This year, Ali and I participated in the Martin Luther King, Jr. Day of Service and joined a HandsOn Atlanta service project at a local Boys and Girls Club. Ali painted murals for the club's gym. After six hours of volunteering on our day off from work/school, she looked at me and said, "This was one of the most fun things we've done together. When can we do it again?" At that moment, SHE realized she could put her talents and passion for art to good use, by volunteering and helping people.
I've been volunteering my whole life, but my Turning Point didn't come until I became a Big Sister and could see the impact my time was making on Ali's life. Ali and I plan to volunteer together at least four times a year so we can continue to use our talents to help people.
If you like helping, I encourage you to try all types of volunteering because I know that one day, you too will experience your turning point.
Share this post