A 2nd Grade Service-Learning Project Was My Turning Point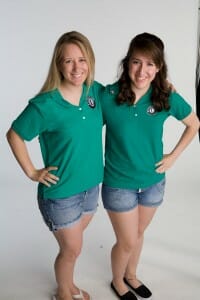 Laura Saldivar pictured on the right at the 2011 National Conference on Volunteering and Service
To highlight the end of AmeriCorps Week we are featuring a high school senior who strives to be an AmeriCorps member in the future.  Today's Turning Point story is written by Laura Saldivar, a member of the Corporation for National and Community Service's Youth Council. She is in her senior year of high school and is looking forward to attending the University of Illinois and major in community leadership and civic engagement.
Second grade was a huge turning point in my life. I had the unique opportunity to participate in a service-learning project with local high school students in my area. Jacobs High School in Algonquin, Ill., had a service-learning club that was funded through Learn and Serve America. After completing a meaningful service project, I knew when I grew up I wanted to be a member of that group. Throughout school I began volunteering and tagging along with the Jacobs High School Service-Learning Team. When I was in seventh grade, the club invited me to attend the National Service-Learning Conference with them.
At the conference, we attended a plethora of sessions and discovered a new program called Project Ignition. Project Ignition is a teen safe-driving campaign that is a youth-led effort in high schools around the country. Teens educate their peers on the importance of safe driving through service-learning. On the plane ride home, my fellow peers and myself started mapping out our very own safe driving program.
This experience has caused me to dedicate my life to service-learning. Most of my projects focus on education and healthy futures. I have completed different summer camps to bridge the achievement gap for local elementary students in the summer and have established more than 50 different safe- driving campaigns at my high school.
Later on in my freshman year of high school, I had the honor of joining Learn and Serve America's Youth Speakers Bureau. This board was made up of youth leaders around the country that were Learn and Serve grantees. This board gave me the knowledge and confidence to speak to others about the importance of service-learning.
Learn and Serve America has given me the keys to success with service-learning. I have served on a plethora of youth boards including: National Youth Leadership Council's Youth Advisory Board, National Organizations for Youth Safety's Teen Distracted Driving Prevention Team, Youth Service America's Youth Council, IL SADD Student Advisory Board, National Safety Council's IL Coalition and more! These boards have taught me self-confidence, public speaking, grant writing and much more.
Currently, I am in my senior year of high school. My experiences with service-learning have caused me to dedicate my live to paying it forward. In the fall I hope to attend the University of Illinois and major in community leadership and civic engagement. I hope to one day work for the White House Youth Engagement Center, AmeriCorps and the US Department of Transportation. Service-learning really has transformed my life.
This is my turning point. What's yours?
Share this post