Make Plans Today to Volunteer on Veterans Day
As we approach Veterans Day, Nov. 11, make plans to celebrate the sacrifices and courage of our armed forces through volunteer service.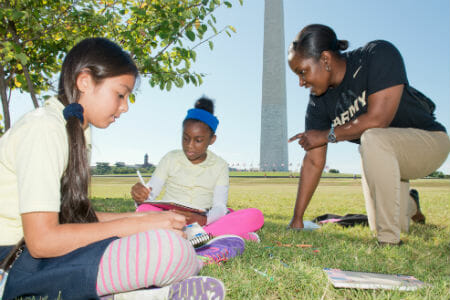 Army veteran Mary Tobin, right, tells her story of service to Washington, D.C., students during an Honoring Service event on the grounds of the Washington Monument on Sept. 11.
Points of Light and the Travis Manion Foundation are teaming up to conduct Honoring Service projects. These events, happening across the country, will engage youth and military members in service to address the most pressing issues in communities, while inspiring a legacy of service among the next generation. The volunteer opportunities both strengthen the ties between civilians and the military and help ease returning veterans' transition back into their communities.
Each event will begin with a presentation of the Travis Manion Foundation's "If Not Me, Then Who" message to youth to provide the context for why service is important. The projects will motivate youth to recognize the value of sacrifice and foster a spirit of service in others.
The service projects include revitalizing local schools, cleaning community parks, welcoming home troops, creating disaster kits and more.
If you're in the areas listed below, sign up and join us:
If you are a veteran in the Washington, D.C., or Baltimore areas, please consider participating in projects at Tubman Elementary School in D.C. (email [email protected]) or Operation Welcome Home Maryland in Baltimore (email [email protected]).
If you do not have an Honoring Service event nearby, check out the Veterans Day volunteer opportunities in your community by visiting AllforGood.org.
Share this post