Converting Good Intentions Into Greater Impact
This post is by Teri Johnson, vice president for strategic partnerships and program expansion at Points of Light. (It originally appeared on the Corporation for National and Community Service blog.)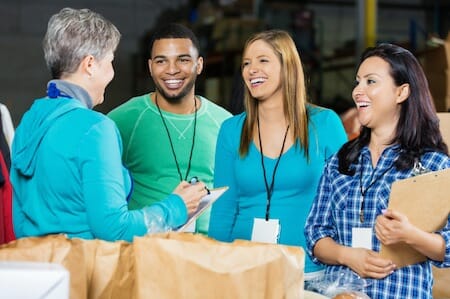 Today's nonprofits face challenges that extend far beyond meeting the needs of their community and clients. Delivering on a mission means cross-sector collaboration, volunteer management, fundraising, performance measurement, and more.
To meet these challenges, many nonprofits are turning to Service Enterprise, a strategy that helps nonprofits build their capacity and increase their community impact by maximizing their effective use of volunteers.
The Service Enterprise model was developed by the Reimagining Service campaign and through the efforts of Points of Light and partners like Algorhythm and RGK Center for Philanthropy and Community Engagement. The Corporation for National and Community Service played a critical role in funding the development of the Service Enterprise model through Volunteer Generation Fund grants to state service commissions.
Starting in California with the partnership of CaliforniaVolunteers, Points of Light has refined Service Enterprise and today supports 29 hubs in 18 states and soon, Puerto Rico.
Already, 169 organizations have become Service Enterprise certified. State commissions in Arizona, Iowa, Maine, Massachusetts, Nevada and Utah are helping bring the model to more nonprofits in their states.
Service Enterprise organizations undergo a diagnostic that indicates areas for improvement and then receive extensive training, coaching, and certification. By the end of 2015, Service Enterprise organizations will be able to display the seal on their Guidestar profiles showing the world that they are cutting costs and better serving their communities by building in efficiencies through volunteers.
What does this mean? More than 165 organizations are investing in their future by putting the necessary culture in place that supports the deployment of volunteers, both skills-based and traditional, to deliver their missions.
Service Enterprise gets to the heart of organizational capacity by measuring capacity and volunteer engagement practices in 10 key areas identified through research performed by Deloitte and the Service Enterprise researchers. TCC Group found that "Service Enterprises not only lead and manage better, they are significantly more adaptable, sustainable and capable of going to scale."
Why does this matter? Research demonstrates that Service Enterprise nonprofits operate at almost half the median budget as their peers. Managing volunteers takes time and an investment, both in the volunteers as well as in the staff who manage them.
Service Enterprise ensures that a culture of volunteerism is embraced at the highest levels of the organization so that proper support and training exists to carry out the organization's mission.
Today's nonprofits need support in order to be a part of community solutions. Service Enterprise is a tested and proven way to maximize volunteer efforts, reduce cost, and make a difference.
For more information about the Service Enterprise Initiative, please click here.
Share this post