ServiceWorks: Putting Opportunity Youth on the Pathway to Progress
This post is by Delores Morton, Points of Light's president of programs.
Across America, more than 5.5 million youth are disconnected from college and careers. That's a jobless rate in excess of 15 percent for inner-city 16- to 24-year-olds. Having that many young people out of school and not working is not just devastating to those displaced youth and their future, but it's a long-term hindrance to the economic development of the communities in which they live.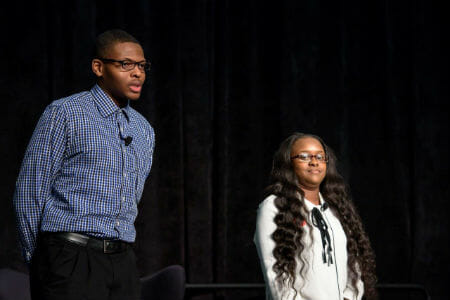 ServiceWorks graduates Nathaniel Scott, left, and Daquana Warren speak at the Conference on Volunteering and Service.
It's a challenge that needs public-private partnerships combining resources and expertise. It's a problem that needs nonprofits and government agencies providing solutions that benefit these young people and their neighborhoods and across the country. Indeed, it's an opportunity for a program like ServiceWorks to help unlock the American dream for so many who may not believe they have a chance.
Thanks to the forward-thinking and valuable partnership of the Citi Foundation, the hard work and dedication of the AmeriCorps VISTAs on the frontline of our success, and the local agencies joining us in advancing this cause from their respective spheres of influence, we're now in the second of a three-year effort to civically engage 25,000 youth.
And I'm thrilled to say ServiceWorks is already being recognized on the national level as a leading program for civic innovation and problem solving. Atlantic Media (publishers of The Atlantic and National Journal magazines) has named ServiceWorks as a finalist for a Renewal Award, putting this Points of Light program among the nation's best at working toward long-term economic development.
To that end, I'd like to personally encourage all of our program partners, participants, volunteers and supporters – along with your networks – to please vote for ServiceWorks to be declared one of the six winners of this prestigious award by Nov. 2.
But that's not the only exciting news. At the recent Points of Light Conference on Volunteering and Service in Houston, people were able to get a sneak peak of the brand new Service Works Online curriculum.
Scheduled for official launch in early 2016, this three-course, web-based training allows "opportunity youth" – young people ages 16 to 24 who are not in school or employed – to start their own journeys toward self-discovery, community service project planning and the development of the leadership skills needed for college and career success. It's free and easy for organizations to implement. And our goal is to reach at least 7,000 young people all over the country through this online curriculum.
The conference also provided a chance to hear directly from Service Scholars, participants of the program. Dallas Service Scholars Daquana Warren and Nathaniel Scott (shown above) shared the impact ServiceWorks has had on their personal development. At a session on advancing youth opportunity, they proudly spoke of how they're now better prepared for college and more ready to lead effectively in a professional environment.
As inspiring as this progress is, we still have a lot of work to do. We want to expand our number of ServiceWorks partners. We want at least 13,000 more youth choosing to grow personally and professionally by serving their community. We need more volunteers as success coaches helping change the lives of the young people for whom ServiceWorks may be their last, best opportunity.
Working on ServiceWorks is a professional high point in my career and I'm proud to show you more about it with this video.
The end to a challenge of this scale begins with an individual recognizing his or her power to do something about it. So I invite you to be a part of a movement to end persistent youth unemployment – as a partner organization, a volunteer or a Service Scholar.
For information on how to do so, please visit the ServiceWorks website.
And, for starters, here are three ways you can be part of ServiceWorks:
Share this post