Social Innovators in Atlanta and New Orleans – Check Out This Opportunity
The Points of Light Civic Accelerator is calling all social innovators – entrepreneurs and business, community and nonprofit leaders – in Atlanta and New Orleans to participate in a two-day, hands-on boot camp. Learn about and use innovation best practices to make better decisions, test solutions and solve problems more effectively.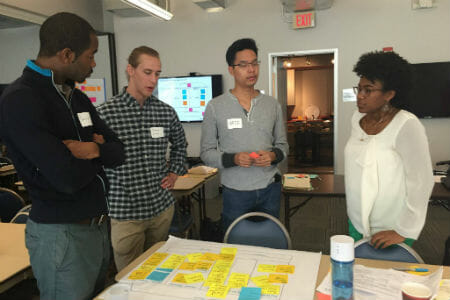 From left, Innovate Houston participants Jaison Oliver, Stephen Love, Krid Fung and Mercedes Harris
The Civic Accelerator heads to Atlanta on Nov.12-13 at TechSquare Labs for Innovate Atlanta. Innovate New Orleans will take place from Dec. 10-11.
The two boot camps round out a three-city series of Rapid Innovation Summits, which launched this month in Houston, coinciding with Points of Light's Conference on Volunteering and Service. More than 40 participants brought diverse challenges to the Houston summit, exploring solutions with their peer innovators.
Highlights included a networking reception and a thought-provoking conversation between Jeff Reichman, founder of January Advisors, and Ayesha Khanna, founder of the Points of Light Civic Accelerator. See more about Innovate Houston here.
"I've never been more excited for a Monday morning," said participant Mark Cueva, who works for the City of Houston. "I'm looking forward to putting these tools and ideas to work."
For the summits, attendees are encouraged to bring real-life, organizationwide issues. For example, if you're thinking of launching a new program, if you want to motivate your team or perhaps you're trying to re-energize funding efforts, the Civic Accelerator encourages you to bring your problems to solve.
As an added bonus, Innovate Atlanta attendees will be able to join change makers at an exclusive Innovate Atlanta VIP Reception at Google Atlanta. This is a not-to-miss opportunity to network with one another, exchange ideas and build a community of social innovators.
For more information and to register for the Atlanta summit, visit bit.ly/InnovateATL. Hurry, "early adopter" pricing ends Oct. 30. Early registration has also opened for Innovate New Orleans.
We look forward to seeing you!
Share this post