Momentous 2012 Conference and 2013 Location Revealed
More than 5,000 leaders from the service sector came together to create new ideas for service, discuss challenges and work together to create solutions through the power of people during the 2012 National Conference on Volunteering and Service. Thank you to everyone who joined us in Chicago!
In case you missed it, please see the following highlights and resources available to all.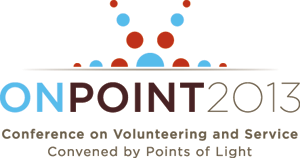 Building on the turning point created in Chicago, we announced the 2013 Conference will be held in Washington, D.C., at the Walter E. Washington Convention Center. At a time when so much divides us, service is common ground. It is a uniting force that can pull us together in common cause and in pursuit of the ideals upon which this nation was founded and toward which citizens continue to strive.
The Conference on Volunteering and Service is on point with the evolving civic landscape. There is no better time to bring together the brightest and most cutting-edge entrepreneurs for social change. Make plans to join us in June, 2013.
Share this post