My Turning Point Occured in the East Harlem Subway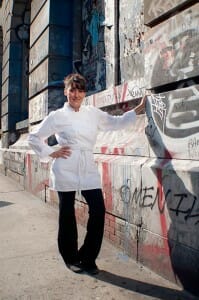 Today's Turning Point story is written by Gina Keatley, Founder/Director of Nourishing NYC, a community food program that feeds, educates, and advocates for tens-of-thousands of in need families annually. Gina is an award-winning chef, nutritionist, and humanitarian who has been chosen as a 2011 CNN Hero and a L'oreal Women of Worth.
In 2003, I had moved to New York City like many young, wide-eyed hopefuls with 900 bucks in my pocket and a ready-to-take-on-the-city attitude. I attended culinary school in NoHo followed by NYU for nutrition in the Village, but as I said I moved here with very little resources and found myself living in East Harlem across from the city projects. I had experienced poverty as a child, so I was not shocked or surprised by how these low-income people where living, I was, however, shocked that within a few block radius as the checkbooks got bigger, the waist lines got smaller. There is an invisible divide on the cross streets on 96th Street and Lexington near where I lived. Below the street line, the financial demographics include some of the highest income brackets, the streets filled with fresh vegetables stands, little outdoor restaurants, and parks. In contrast, right above the line are the lowest income brackets and the streets are filled with liquor stores and fast food takeout stands.
My turning point was when I was walking to the subway in East Harlem and had to walk over a man lying on the floor with an amputation. Was this man a veteran or in a horrific accident? No, this man was a victim of diabetes! I was shocked to see that here in America, mere blocks from smoothie shops and gourmet grocery stores, we had Americans starving for nutrition. East Harlem has the highest rate of diabetes and obesity in all of Manhattan. As a trained chef and nutritionist, I had to do something.
Nourishing NYC/USA was the answer to the problem that I was seeing in my community. At Nourishing NYC, our direct service arm, we feed through our urban produce program thatdistributed more than 25,000 pounds of fresh produce on the streets on Harlem to in-need clients in 2011. We educate through our award-winning junior chef programs where we teach children culinary and nutritional skills for themselves and family. We advocate for a healthy environment through seasonal eating and workshops. Nourishing NYC has been so successful that we decided in late 2011 to expand nationwide with Nourishing USA, our nationwide advocacy arm.
Through Nourishing USA, Americans who are interested in helping their community can offer "nutrition for all" by ordering a free anti-hunger advocacy kit and grow, gather and give right in their community. To continue the programs, we are in need of donations and encourage anyone that feels these programs are worthy to please donate online at www.NourishingNYC.org or www.NourishingUSA.org. I am proud to have founded an organization that is reaching so many in-need clients. At Nourishing, I try and teach clients to be chefs both in the kitchen and out of the kitchen. As my grandma once said, "to eat is to enjoy, but to teach how to eat is to love."
Share this post
---