My Turning Point Was Hockey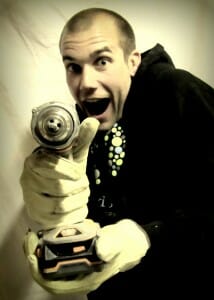 Brian Leftwich is the Senior Manager of NICE for HandsOn Network. He is also a CrossFit coach, heirloom gardener, Colorado State Muay Thai champion and he loves the smell of sawdust in the morning.
I grew up in a small Canadian suburb called North Dakota. Like most kids my age I fell in love with the game of hockey. Every year, for the first six years of my budding sports career, I looked not to the stands to find my father, but to the bench, where he stood as coach. You may be thinking, "Big deal Brian, lots of dads volunteer to coach their sons." True, but the odd thing about my dad is he never played a second of hockey in his life. My dad never learned how to skate, tape a stick or shoot a puck. He grew up on a farm literally just outside of Canada, and was one of four students in his senior class. Everything he knew about hockey was what he read in books and learned from watching the game. Still he was there for me every season, coaching, teaching and inspiring kids. His motto: "Every kid deserves a chance to play because win or lose, I am proud of you for playing." My dad did not coach to create successful athletes; he wanted to create successful young men.
My dad's passion for volunteering did not stop at hockey and he would often bring the whole family with him to service projects. Whether it was manning a booth at a free carnival, building a playground with the Optimist Club, delivering Thanksgiving meals, coaching Special Olympics or wrapping presents at the mall, service was woven into the fabric of my family. It mattered very little what the project was, if we had the right skills, or the necessary experience. We showed up, smiled and got to work.
When I left home to attend college, I realized what a profound lesson my father had taught me about service as I began my own personal journey of volunteering.
I realized that:
I will never know what it is like to grow up without a father, but I can be your friend when high school becomes overwhelming.
I will never know what it is like to be 67 and lose everything to Hurricane Katrina, but I can show up afterwards and help you build your first home.
I will never know what it is like to spend your entire childhood in a garbage dump outside of Juarez Mexico, but I can be your Caballito for an impromptu game of fútbol.
I will never know what it is like to walk six miles to school over a mountain pass in Nepal, but I can make you smile by pantomiming animals and being your jungle gym.
I will never know what it is like to grow up in Haiti, lose your entire family and use of your leg to a devastating earthquake, but I can wipe the tears from you eyes when physical therapy hurts too much.
My turning point was when I discovered that I will never have all the answers, skills and experience to be a perfect volunteer, but I can have the heart to show up and do what I can, with what I have, to be a turning point for someone else.
Share this post