A Billion + Change: Envisioning the Future of Corporate Service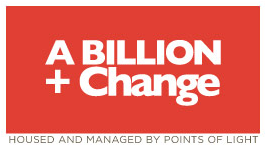 Can you imagine a future where 500 companies decide to collectively lead social change and tackle the most pressing challenges of the 21st century through skills-based volunteer service (SBV)?  This is the future that A Billion + Change discussed today at a Forum in Washington, D.C., "A Billion + Change in Action: Connecting to the Future of Corporate Service." At this Forum, A Billion + Change announced that 200 companies have pledged an estimated $1.8 billion worth of skills-based services to help build nonprofit capacity.
This keeps A Billion + Change, a rapidly growing national campaign to mobilize billions from corporate America in skills-based and pro bono volunteer services, on track to inspire 500 companies to create or expand an SBV program in their workplace by 2013.
At the Forum, leaders in industry, policy and civic engagement discussed opportunities for businesses to scale efforts to meet the social, economic and environmental challenges of the 21st century through skills-based service. They also explored ways to align employee volunteer programs with national initiatives to boost innovation, competitiveness and models of effective collaboration.
What leaders at this Forum really did, however, was encourage each pledge company to look ahead at what they are poised to contribute through skills-based service.
"Our challenge now is to expand A Billion + Change while partnering effectively with nonprofit professionals so we can change communities for the better," said Senator Mark Warner, honorary chairman of A Billion + Change. "It's through collaboration and collective impact that A Billion Plus really does add up to meaningful change."
Every day, A Billion + Change pledge companies harness the skills and talents of their people to build the capacity of nonprofit organizations that create empowering opportunities for women and veterans, strengthen our schools and workforce, improve STEM education and tackle global development challenges.
"At IBM, we believe the best way to invest in the communities in which our employees work and live is to apply our best skills toward addressing specific societal challenges.  We believe this concept of skills-based service can expand and be brought to scale, and we hope that the leadership IBM has provided to communities – which was more than 3.2 million hours in 2011 alone – will inspire other companies around the world to mobilize their volunteers," said Stanley Litow, vice president of Corporate Citizenship and Corporate Affairs at IBM, which serves on the Leadership Committee of A Billion + Change.
Many pledges – across a variety of industries and company size – have found innovative ways to utilize their employees' professional skills and talents to give back to their communities. A pro bono team from Capital One, for example, joined with the Virginia legal community to create a new technology solution, called Justice Server, which matches low-income clients with volunteer attorneys offering pro bono legal services.
Through "Succeed Through Service," The Ritz-Carlton Hotel Company is helping address the school drop-out crisis by engaging at-risk middle school students. The company's chefs, concierges, restaurant employees and trainers all lend their skills in teaching students about healthy eating habits, social skills and group presentation skills. And in Dallas and New York City, MEplusYOU, a strategic and creative agency, dedicates one weekend every six months to work with nonprofits in its "Weekend of Love" program. In just two years, these Weekends of Love have delivered $2 million in creative services to communities, while serving as important learning and development opportunities for its staff.
In the months ahead, A Billion + Change will focus on its goal of inspiring 500 companies to join A Billion + Change to create a marketplace for skills-based volunteering, and to make SBV the new normal in every workplace.  Will you join us? Follow our progress and take the pledge online at: http://www.abillionpluschange.org.
Share this post