National Volunteer Week Project Linked to Tropical Storm Irene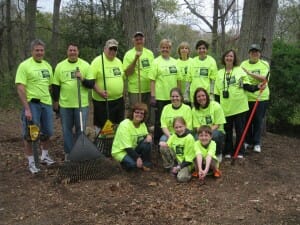 Today's post is written by Diana O'Neill, executive director of the Long Island Volunteer Center.
I am the executive director of the all-volunteer Long Island Volunteer Center, an affiliate of HandsOn Network. Volunteeringinamerica.gov continues to rank New York last in the nation, and we were named a regional volunteer center to help raise the profile of volunteerism and increase the number of volunteers in the region.
One of our National Volunteer Week service projects had all the right ingredients to create a memory marker. It was accomplished in honor of our beloved Founder and President, Joan Imhof, who we lost in December after a brief illness. Board member, Dave Okorn, who heads the Long Island Community Foundation, donated the funds to the Suffolk County United Veterans Project, which helps homeless veterans on Long Island. We refurbished the grounds of a group home and cleared debris caused by Tropical Storm Irene. The project was done in conjunction with a corporate community service initiative we support, and that Joan helped create 20 years ago, called Long Island Volunteer Enterprise. It was serendipity from start to finish – we even learned that our efforts fell neatly into the Keep America Beautiful Project!
Here is how the day in Shirley, N.Y. unfolded:
The backyard team consisted of Warren Ferry of United Methodist Church Disaster Volunteers leading the effort to clear out debris with the help of my brother-in-law who has a strong desire to help veterans. Dave brought a friend to help rake while he cut down tree limbs. In the front, were members of the corporate initiative representing Deloitte, Peoples Federal Credit Union, JMC Enterprises and MTA Transit Solutions as well as our co-sponsor, United Way of Long Island, Joan's daughter, Meg Imhof Callinan, and her two children, Jackie and Michael, lent their support by helping to clean out and weed flower beds, plant flowers and plants, and rake the side yard of debris.
There were 17 of us doing our part to beautify the area, improve the life circumstances of homeless veterans and remember a great humanitarian who founded an organization dedicated to volunteerism – a "trifecta" of good. It was a collaborative, voluntary effort which recognized the sacrifice of our veterans and helped clean-up from the wrath of Tropical Storm Irene.
Click on the link to view more highlights from National Volunteer Week.
Click on this link to learn more about Points of Light/HandsOn Network disaster services.
Share this post