News Flash: Act Now for "Early Bird" Rates for National Conference on Volunteering and Service

Now is the time to reserve your seat at the 2012 National Conference on Volunteering and Service.
Early bird registration rates end on Friday, April 27, at 11:59 p.m. After that, prices go up and you could miss an opportunity to join leaders from the service sector to learn and cultivate new ideas, discuss the challenges we all face and work together to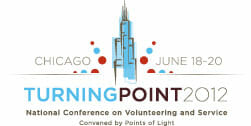 create the next generation of service.
This year's Conference, convened by Points of Light June 18-20 in Chicago, will create solutions to reignite civic spirit, nurture real change and channel the combined resources of the public and private sector to coalesce communities around national service and volunteerism like never before.
Marquee speakers include former first lady Barbara Bush; U.S. Secretary of Education Arne Duncan; Gen. George W. Casey, former chief of staff of the U.S. Army; Joshua DuBois, executive director of the White House Office of Faith-Based and Neighborhood Partnerships; Laura Ling, journalist, host, E! Investigates, co-author, "Somewhere Inside"; Stan Litow, vice president, Corporate Citizenship & Corporate Affairs and president, IBM International Foundation; Eboo Patel, founder and president, Interfaith Youth Core; Paul Schmitz, CEO, Public Allies and White House Council for Community Solutions; Mark K. Shriver, senior vice president for U.S. Programs, Save the Children; and Wendy Spencer, CEO of the Corporation for National and Community Service.
We'll trade current practices for new ideas that lead to a brighter path for the future. Our goal is to activate 21st century volunteers, helping them use their time, talent, voice and money to build healthy communities in vibrant, participatory societies.
The Conference is supported by Chase, the official economy and military track sponsor, and Target, the official excellence in education sponsor.

Share this post
---