Early Bird Registration for Conference Ends This Friday!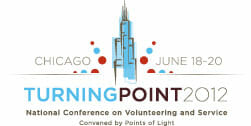 It's that time of year again! Not only are we on the verge of spring (and the dreaded pollen season), but we are getting closer to the National Conference on Volunteering & Service! All are invited to join us in Chicago, June 18-20, for the world's largest gathering of volunteer and service leaders from the nonprofit, corporate and government sectors. The conference is full of new opportunities for intimate, thought-provoking conversations about national service, social entrepreneurship and hands-on action.
Be sure to take advantage of the early bird registration before it closes April 27th.
Our annual event provides attendees with an opportunity to learn, connect and be re-inspired for volunteering through a wide range of exciting and informative plenary sessions, workshops, special events, service projects, exhibits, specialized corporate tracks and more. Attendees can look forward to an enhanced virtual experience, unique learning formats, more diverse content, incredible networking opportunities, and the much loved Exhibit Hall!
We're pleased to offer 14 tracks and more than 100 workshops to choose from. (See track descriptions)
Business
Digital Mobilization
Economic Development
Emergency Preparedness and Response
Environmental Sustainability
Excellence in Education
Faith and Neighborhoods
Health and Wellness
National Service Programs
Nonprofit Capacity Building
Service Innovation
Veterans and Military Families
Volunteer Management
Youth Leadership
We're thrilled to be headed to the Windy City- Chicago!
As Mayor Rahm Emmanuel said, "Chicago is not only the city of Big Shoulders, we are the city of big hearts."
Chicago has a remarkable history of combining service with innovation. Continue to check back to read more about the city we're so pleased to have hosting us and all it has to offer.
Are you ready to pave the way for a fresh approach to civic engagement? We're looking forward to seeing you at Conference this summer!
Share this post