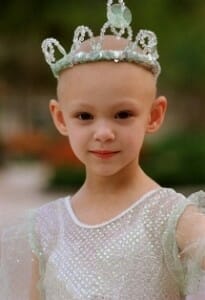 Today's story is republished from the White House For the Win Series blog on April 19, 2012. Alyssa Pietruszka, 13, is an eighth grader at North Shore Middle School in Hartland, Wis. At a young age she learned the miraculous power that happiness can have on the life of a sick child. Diagnosed with stage three kidney cancer at age three, Alyssa was granted a "wish" to visit Give Kids The World Village– a magical resort for children with life-threatening illnesses and their families– and had the course of her life changed forever. 
When I was 3-years-old, I was diagnosed with Wilms' Tumor– a rare type of kidney cancer that affects children. I underwent a year of intensive chemotherapy before I became too sick and weak to continue the treatments. Hope was taken away from me and my family the day I entered the hospital's hospice program.  The doctors told my family that I had a few months left to live and that I was eligible for a "wish" from my local wish granting organization.
As a little girl, my favorite thing in the world was princesses because I believed they could make magical things happen.  So, I wished to be a Disney princess and had my wish fulfilled when I spent the most magical week of my life at Give Kids The World Village (GKTW)– a 70-acre nonprofit "storybook" resort located near Central Florida's most beloved attractions. Here, children with life-threatening illnesses and their families are treated to weeklong, cost-free fantasy vacations complete with accommodations, donated attractions tickets, meals and much more. Since 1986, GKTW has welcomed more than 113,000 families from all around the world.
When my mom, my dad and I arrived at the Village, I was extremely sick. But, as the week progressed, something magical started to happen: I started to regain my strength. My mom thought my spike in energy might be from the lack of chemicals infusing my body, but I knew exactly what it was: it was the magical medicine of Give Kids The World.
For the first time since I was diagnosed with cancer, my family started laughing again. We were so busy having fun at the Village that we forgot about my cancer and my prognosis. We spent the week running—literally—around the fairytale resort where we indulged in ice cream for breakfast every morning at the Ice Cream Palace and enjoyed a sit-down family dinner in the whimsical Gingerbread House Restaurant every night. I spent my days playing in the enchanted Castle of Miracles, riding the magical carousel, splashing in the pool at the Park of Dreams, and taking pictures with my new best friends: Mayor Clayton and Ms. Merry– 6-foot-tall bunny rabbits that run the whimsical Village. In the evenings I danced and sang at the nightly entertainment activities and watched my mom cry tears of joy when we discovered that Christmas – complete with presents, Santa Claus and snow—comes every Thursday to the Village. My mom thought it would be the last Christmas that we would have together.
Give Kids the World and its army of angel volunteers sparked so much happiness and hope in my fragile body that when I returned home from my "wish" I felt ready to fight my illness again. My doctors suggested that I try one more round of chemotherapy. For the first time ever, my body started responding positively to the treatments and my tumor started to shrink.  The doctors said it was a miracle, but I knew it wasn't a miracle. It was the magic of GKTW that saved my life.
I am fortunate that at a very young age I know exactly what my path in life is going to be. I plan to help other children like me visit the Village so they too can receive the magic medicine that will make them better. In life there are trials and adversity and we can either let them destroy us or we can grow from them and find ways to give back and help others who are also going through times of need. I decided to pay my gratitude forward by dedicating my life to spreading the word of hope on behalf of GKTW.  Since my wish trip to the Village in 2001, I have spoken about the magic of GKTW at countless schools, corporations, conferences and events in an effort to raise awareness and funds for this amazing organization.
I have also taken on the role as a volunteer. In July of 2010, I had the honor to spend an entire week serving families at GKTW.  During that time, I met dozens of families going through the same heartache that my family had and offered them my heart and my ear.  I listened to their stories of hope. I listened to their laughter. I saw their smiles.  And, I witnessed a love so great that it could heal sick children just by providing a week of unforgettable happiness that inspires hope in each one of them. My dream is to one day become president of GKTW so I can lead corporations, communities and volunteers around the world to donate their time, resources and hearts to provide happiness, hope and memories to families who need it the most.  I know now that it wasn't my time to die at age three—there are too many children and families out there who need to hear a message of hope and I know I am the one to deliver it.
Today, Alyssa is a volunteer, advocate and spokesperson for the nonprofit organization that has provided happiness and hope for more than 113,000 children around the world. Give Kids the World Village is a recipient of the Daily Point of Light Award presented by Points of Light.
Share this post