I Get a Better Quality of Life Because I Give Quality to Life Through Service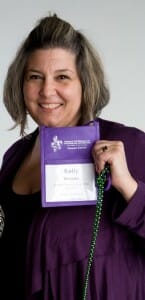 Today's turning point story is by Kelly Wessels, the chief operations officer at United Community Action Network (UCAN), a Community Action Agency in Southern Oregon.

A turning point indicates an intentional change in direction, momentum and impetus… and for me that happens daily.  I come from a legacy of service – my mother was a VISTA, I have been a Senior Corps director, and now I am sponsor for a VISTA Team, AmeriCorps Team and four Senior Corps projects. I learned from childhood that we all matter, we all can serve, and our purpose is to be of service to people, to the environment, to other living things, because we were created to be interdependent to sustain our lives.
I am COO for a Community Action Agency in rural Oregon, and now, more than ever, I believe that service is an action that is powerful, changes lives and reminds us of the incredible potential we all possess. Our communities' survival relies on service in action, from fulfilling the needs for basic life, to fulfilling the needs of the human spirit. The giver is the receiver when service is in action – I get a better quality of life because I give quality to life through service. Each face I greet, hand I touch, story I listen to and action I take to mobilize resources makes life better. Service should be an activity that is as much a part of our lives as brushing our teeth.  We should do it because it's good for us… and good for those around us.
Kelly and her family spend time together volunteering with music programs for youth, athletics, and activities that serve the homeless and provide advocacy for family wellness.
At Points of Light we are highlighting amazing service stories like these to continue to recognize people after National Volunteer Week and lead into our National Conference on Volunteering and Service in Chicago this June.
Share this post