New Website, New Look, New Feel!
Today's post is written by Chelsea Murphy, Communications Coordinator at Points of Light.
Last week amidst all of our Conference planning we launched our new website! Below is a peak of what our homepage looks like-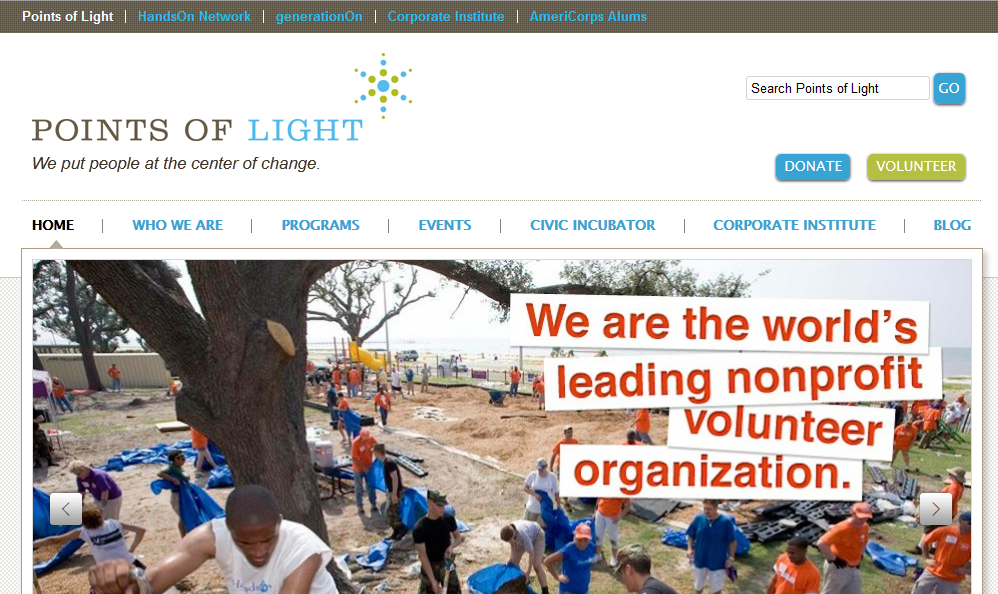 After about a year of work we are excited to share with you our new website envisioned by Perfect Sense Digital with all updated content.  We've added  sections for our events and programs, Civic Incubator and Corporate Institute. As the go-to organization for volunteers we hope whether you are an individual, nonprofit, government, or corporation you can find useful resources to help connect you to your power to engage in social good.
With the new site in place we will add Conference event highlights and recaps during and after Conference if you can't make it to Chicago. We hope you find this new website engaging, fun, informative and interactive.  You can find more photos, top volunteer resources, and event video recaps to watch among many other cool new features.  While browsing our site you can search volunteer opportunities from any page you are on or share/like specific pages on social media.
Feel free to comment and leave your feedback to let us know your thoughts on the new website. If you wish to reach out to me personally, email: listen[at]pointsoflight dot org.
Share this post