News Flash: Buy a Tumbler, Help HandsOn Network

When you pick up your morning coffee this week, keep an eye out for a flashy Starbucks tumbler that does more than just keep your favorite beverage hot. This specially designed, limited edition tumbler provides a unique connection to community involvement.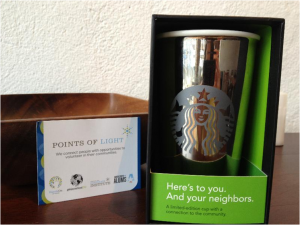 For every tumbler purchased, Starbucks is donating $5 to HandsOn Network, an enterprise of Points of Light, to support those working to create positive change in neighborhoods across the country.
This new dimension of the Starbucks-Points of Light partnership was announced last Thursday in Seattle at a meeting of Points of Light's Corporate Service Council, the premier national platform for advancing corporate volunteerism. Cliff Burrows, president, U.S. & Americas for Starbucks Coffee Company and chairman of the Council, presented the tumbler to Points of Light CEO Michelle Nunn.
Nunn said the promotion creates new awareness of how people can connect to volunteer opportunities in their neighborhoods and is an innovative example of Starbucks's commitment to inspiring change, making a difference in people's lives and using their size to bring about positive change.
Get one while supplies last and help us inspire, equip and mobile people to take action that changes the world.

Share this post