Not Your Usual Sunday Supper
America's Sunday Suppers – inspired by Martin Luther King, Jr.'s vision of people from diverse backgrounds interacting on personal levels – encourage people to share a meal and discuss issues that affect their communities, such as unemployment, homelessness, education and hunger. The events often happen around MLK Day, but you can hold them any time of the year for groups big and small to promote volunteer service. Visit www.pointsoflight.org/mlk for resources to host your own Sunday Supper and – for inspiration – read below about two Alpha Kappa Alpha Sorority Sunday Suppers in Maryland during the MLK Day weekend.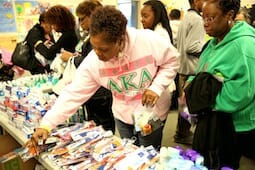 Contributing to its mission of "service to all mankind," Alpha Kappa Alpha Sorority chapters across the country hosted volunteer projects and America's Sunday Suppers to honor Martin Luther King, Jr.
Around 800 volunteers in Mitchellville, Md., and 130 in Baltimore participated in service projects, collecting cans of food, assembling hygiene kits, writing greeting cards to soldiers, and more. They ended the day of volunteer service – which included a performance by a local high school choir – with Sunday Suppers.
The sorority's MLK Day-related activities nationwide were made possible in part through a $15,000 grant from the Corporation for National and Community Service, administered through Points of Light.
"The purpose of the events was to honor and celebrate the life and legacy of Dr. King and to raise awareness of the need in our community," said Wanda King, an Alpha Kappa Alpha (AKA) project manager in Maryland. "We are trying to encourage and mobilize the public or others who don't normally engage with service to get excited about serving."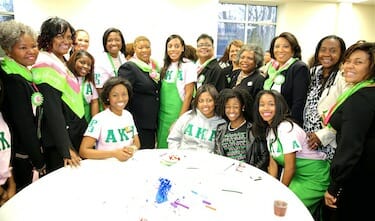 The suppers began with remarks and greetings from Maryland Lt. Gov. Anthony Brow and Angela D. Alsobrooks, Prince George's County, Md., state's attorney, who attended the Mitchellville supper. Their appearance was telecast live at the Baltimore event.
At both suppers participants contributed to roundtable discussions about th economic sustainability of communities, Social Security, closing the wealth gap and standards of living.
"Everyone was very engaged in the table discussions which resulted in wonderful suggestions and ideas being brought forth," said Susan Marsh, AKA's international secretary.
"Our hope is that representatives from the various community organizations and the localofficials who were present will take the feedback and begin to find ways to implement the suggestions from the discussions into concrete action and policy," Marsh said.
The MLK Day events were part of AKA's ongoing efforts to encourage Marylanders to volunteer in their communities.
"It was a beautiful sight to see what can happen when you get so many people together focused on service," said King. "It is so good to know that our efforts will benefit others."
Share this post