Veterans: Make the Most of Your Skills as a Civilian Professional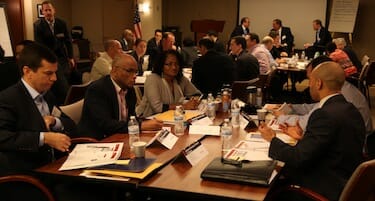 Are you a veteran wondering how to apply your leadership skills to the civilian workforce?
Exelis Action Corps has partnered with global talent consultancy Korn Ferry and Points of Light to bring you the Leveraging Military Leadership Program, a four-month, competitive program designed to help veterans get ahead in their post-military careers.
The first round of the program, which kicked off last month, welcomed a class of 35 veterans with military experience ranging from junior enlisted to senior officer ranks in the Army, Marine Corps, Navy and Air Force.
John Procopio, Exelis' chief human resources officer, told the first group of participants as they gathered at Exelis' headquarters in McLean, Va.: "You know military culture; your new company has a culture, too. You must learn it. Listen and adapt to that culture. … Your key skill is agility. You must use that to make yourself successful."
The program consists of online, integrated learning components and one-on-one coaching. Participants learn how to chart their professional journeys and how to apply their leadership skills in civilian positions.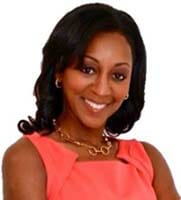 "These leadership development services are the same level that Korn Ferry delivers to boards, CEOs and senior executives," said Erica Jeffries, Exelis chief inclusion and diversity officer. "Korn Ferry's expertise in leadership development, coupled with insight from Exelis employees who are also veterans, provided the winning combination to make this program the true success that it is."
Jeffries, a former White House fellow and Army helicopter pilot, is the force behind the program's creation. While participating in an Exelis leadership development program, designed and led by Korn Ferry, she was planning a project to set veterans up for success as they depart military service.
Korn Ferry was eager to extend its reach to serve veterans and their families. It was clear that a partnership between Korn Ferry, Exelis Action Corps and Points of Light would provide veterans the rare opportunity to experience world-class civilian leadership training.
"The Korn Ferry volunteer team has been privileged to work with these accomplished veterans, helping them successfully move into the next chapter of their careers," said Noah Rabinowitz, Korn Ferry senior partner and key program faculty member. "This comprehensive experience will help them network, plan and strategize for the next phase of their life and career."
Distinguished veterans are selected through a competitive process. Many of the participating veterans hold public and private sector management positions across a variety of industries.
"Without the support of Points of Light, we would not have received the level of interest we did for the program in such a short time," said Jeffries. "Because Points of Light spread the word of this rare opportunity throughout their Community Blueprint Network, we could select from a large pool of qualified candidates."
The Leveraging Military Leadership Program will convene at least twice more this year and quarterly beginning in 2015. The next class opportunity details and application information will be posted here by March 15, 2014.
Share this post