Listen to These 9 Podcasts About Civic Engagement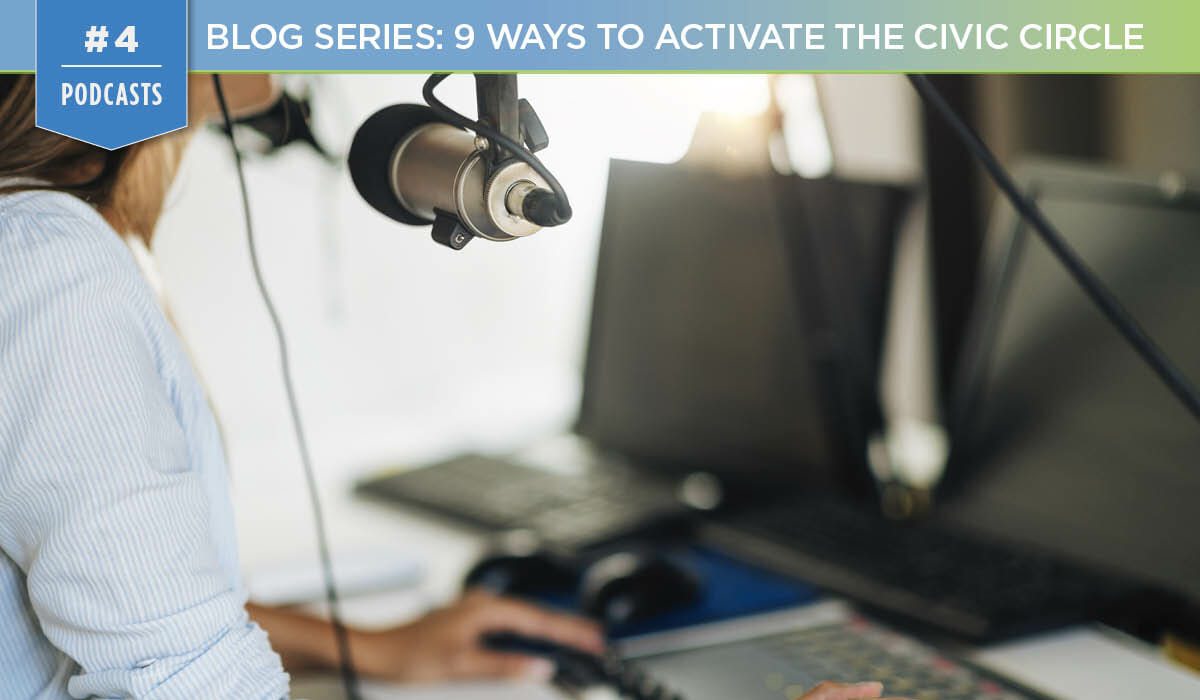 There are many ways to live a full civic life. Today's post is part of a series that has already covered apps and documentaries that can help you reach your civic engagement goals. As we continue exploring ways you can activate around the Points of Light Civic Circle, we're looking at nine podcasts about civic engagement that highlight timely and relevant ways for you to champion social good.
Points of Light's Civic Circle is a framework designed to demonstrate the various ways that individuals and organizations can lead, lend support and take action for causes they care about. After all, volunteering and donating are important facets of civic life, but doing good comes in many other forms, too. The following list of podcasts* about civic engagement will help you bring all nine elements to life.
*Note: These podcasts may contain mature language or content. Parents and caregivers, we recommend being mindful to listen first, before sharing them with children.
This podcast, brought to you by BBB Wise Giving Alliance Give.org, exists to educate and empower people who are interested in donating responsibly. By showcasing stories of philanthropic leaders, government figures and active donors who have a passion for giving, episodes discuss strategies and tools to help listeners make impactful gifts that stretch far and benefit many.
This episode of the podcast Hidden Brain tackles the idea of "listening and learning" head-on. When we believe we are experts in something, we imagine that we know more than we do. Psychologist Adam Grant discusses what actually happens in the brain when we choose to challenge our own deeply held beliefs.
Green Dreamer is a beautifully produced podcast for those pursuing more environmentally conscious lifestyles. It takes on the concept of capital as a means of expressing deep values
and building a more responsible economy. The podcast features themes of creative transformation as it discusses the deconstruction of harmful economic systems, healing from materialism, addressing global waste and how people can repair their relationship to consumerism.
Each week this podcast interviews a different person with a career in public service to gain insights on why they do what they do. You can hear from U.S. Senators, think tank employees and leaders of advocacy groups on their journeys to public service. If you're interested in serving in any capacity – whether on your local school board or in national government – this podcast is for you.
This multi-award-winning podcast is sure to move you to action (and possibly tears) with incredible stories of courage and purpose. Finding Humanity takes listeners into the heart of the most complex social and political issues facing our world, featuring global leaders, human rights experts and more. Each season of the podcast zeroes in on a specific realm of advocacy, and the "B Lab Special Series" focuses on people in the business sector who are addressing today's biggest challenges.
As a United States citizen, one of the most powerful ways to ensure your values are represented in government is to participate in democracy. This nonpartisan podcast examines a different aspect of democratic life each week — from voting to criminal justice to the free press. You might be surprised at what you learn about the origins and issues of these facets of democratic life, as well as what you can do to help build and sustain a healthy democracy.
This riveting podcast highlights impactful people working for social change, including educators, activists, social workers and more. Each guest shares a bit about their personal journey as well as real-life stories from the field. Discussions are honest and bold, with guests leaving listeners tangible tips for getting involved in addressing issues like racism in education, equity in mental health, immigrant rights and responsible crisis intervention.
The Pro Bono Perspectives podcast from nationally-recognized nonprofit Common Impact covers a wide variety of topics, including social impact, CSR, philanthropy, partnerships, climate justice, how companies can take action for racial equity, where pro bono can be a solution for some of society's biggest challenges and much more. You'll finish each episode feeling inspired by social impact thought leaders who are creative transformative change in their spheres of influence.
The Fairer Cents podcast is a cheeky, often comedic podcast taking on some serious issues, like the wage and wealth gap, the economics of motherhood and the roots of economic inequality. Whether you're a woman in the workplace or simply curious about the role of your money and career on your personal relationships, this is a fantastic podcast to start exploring big themes.
Now you're equipped with these nine podcasts about civic engagement you can listen to on your next walk around the neighborhood, daily commute or unwind time before bed. If you find one you really love, tag us on social media to let us know! Remember, educating yourself on the issues is just one piece of the puzzle, so be sure to find ways you can take action on the issues once you've been more informed through these podcasts. Check out all nine issues of our free digital magazine series Civic Life Today for inspiring stories of civic engagement and actionable steps you can take to live your best civic life.
This piece is part of a series that highlights the many ways you can activate the Points of Light Civic Circle using various tools. Check out all the ways you can live your best civic life.
Share this post