Points of Light Leadership Partners Invest in the Future Workforce, Prepare Americans for Disaster and More
As Points of Light celebrates its 25th anniversary this year – building upon founder President George H. W. Bush's vision of a "thousand points of light" – we recognize the socially responsible investments from our top 2015 corporate contributors, companies that have helped Points of Light become the largest organization in the world dedicated to volunteer service.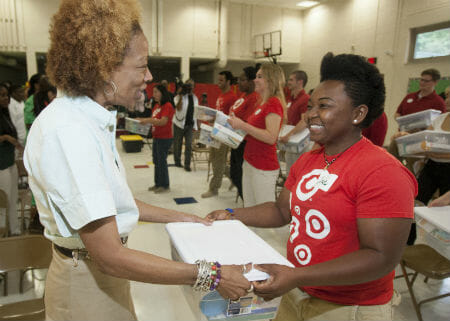 Target volunteers hand out school supplies assembled at the Turner Field service project to Atlanta teachers.
"Points of Light's corporate partners have always been important stakeholders in our success," says Madden DeGarmo Manion, Points of Light's Chief Development Officer. "Over the past 25 years, corporate volunteering has become the new norm. Businesses are increasingly seeking to make philanthropic investments that incorporate volunteer activities for their employees and strategically link to their overall business objectives. Points of Light has developed strategic, multifaceted partnerships that are best-in-class examples of this type of programming."
Here is some of the work Points of Light's Leadership Partners made possible in 2014, with many projects continuing into 2015.
Investing in the future workforce – ServiceWorks, powered by AmeriCorps, the Citi Foundation and Points of Light, is a groundbreaking, national program that uses volunteer service as a strategy to help 25,000 low-income young adults in 10 U.S. cities develop the skills they need to prepare for college and careers. The Citi Foundation's three-year, $10 million commitment is the largest single grant to Points of Light and supports the largest privately funded AmeriCorps VISTA program.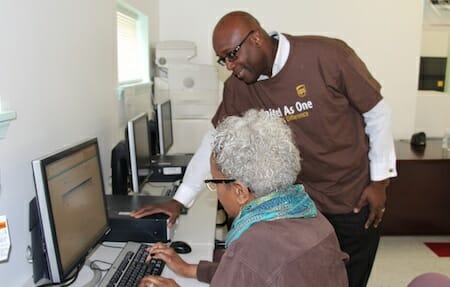 UPS employee Tony Heath, standing, volunteers at the Better Living Center in Chester, Pennsylvania, which offers free Internet access to the community.
Strengthening key programs – The expansion of Points of Light's disaster, veterans and global programming, and an enhancement of the organization's technology offerings, was made possible with funds from The UPS Foundation. During the 2014 Conference on Volunteering and Service, UPS CEO David Abney announced the company's commitment toward reaching 20 million hours of employee volunteer service by the end of 2020. Investments in Points of Light's mission represent a strategic commitment to the value and ideals of volunteerism at UPS.
Investing in HandsOn Network affiliates to increase employee volunteering – Altria Group works closely with Points of Light's HandsOn Network affiliates throughout the country to engage their employees in community volunteerism in local markets. In 2014, through the HandsOn Network, Altria employees completed 80 service projects in 36 states, engaging more than 2,000 employees and delivering more than 10,000 hours of service to local communities.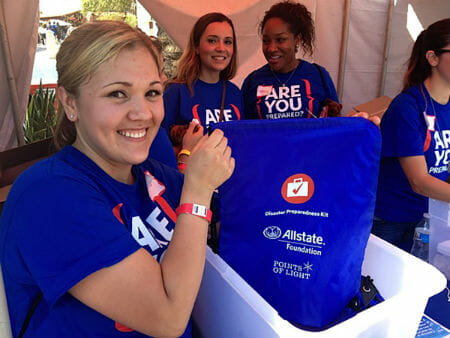 A volunteer shows a disaster kit during the Los Angeles stop of a 14-city disaster preparedness tour created by The Allstate Foundation and Points of Light.
Preparing Americans for disaster – Tens of thousands of people are participating in a 14-city, disaster preparedness tour sponsored by The Allstate Foundation and run by Points of Light and its HandsOn Network. As volunteers, Allstate insurance agents educate attendees about the perils of local disasters and the best ways to prepare. The agents also help participants assemble their own disaster preparedness kits – including such items as hand sanitizer and flashlights that don't require batteries. During the national tour, 10,000 visitors take home kits.
Providing financial coaching for success – Through the Financial Opportunity Corps, a national service program funded by Bank of America and managed by Points of Light, AmeriCorps VISTA members train volunteers as financial coaches at local nonprofits across the nation. More than 400 economically disadvantaged individuals and families have been empowered through these coaches to adopt better money habits, such as reducing debt, paying for school, saving for emergencies or building assets. An additional 2,000 individuals and families have participated in financial workshops by trained Financial Opportunity Corps volunteers. Bank of America employees have embraced the Financial Opportunity Corps, serving as volunteer coaches and financial workshop facilitators, and contributed more than 35,000 volunteer hours to a broader range of financial education initiatives last year.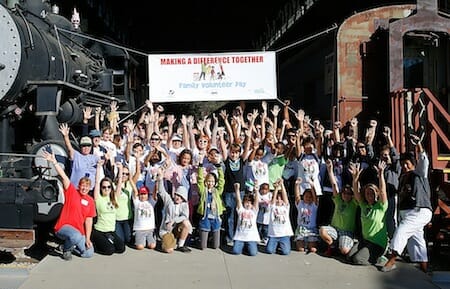 Volunteers celebrate Family Volunteer Day at The Travel Town Museum in Los Angeles.
Making family time count – Together, Disney and Points of Light are inspiring families to get out and serve. In 2014, more than 16,000 parents and kids participated in Family Volunteer Day, serving close to 90,000 people. Disney is a multiyear supporter of Family Volunteer Day – managed by generationOn, Points of Light's youth division. The company also invests in Points of Light's Daily Point of Light Award to honor families who volunteer together.
Fostering collaboration and innovation in service – JPMorgan Chase & Co. and Target helped bring together thousands of leaders from the nonprofit, corporate and civic sectors as impact sponsors of Points of Light's 2014 Conference on Volunteering and Service in Atlanta. During the conference, JPMorgan Chase held an innovation summit, awarding four nonprofits a share of $100,000 for creating new ways to help people volunteer. And at a Target-sponsored volunteer project before an Atlanta Braves-Philadelphia Phillies baseball game, more than 300 volunteers and game-goers packed 5,000 kits full of school supplies for local teachers.
In addition to the companies mentioned above, here are Points of Light's 2015 Leadership partners:
Points of Light's Leadership Partners each contribute $500,000 or more annually. Their 2014 investments have enabled Points of Light to develop and grow innovative programming that makes good business sense for the companies and a big difference in the communities Points of Light serves.
Share this post