Points of Light Conference Teams Up with Bestselling Authors for Talk on Wellness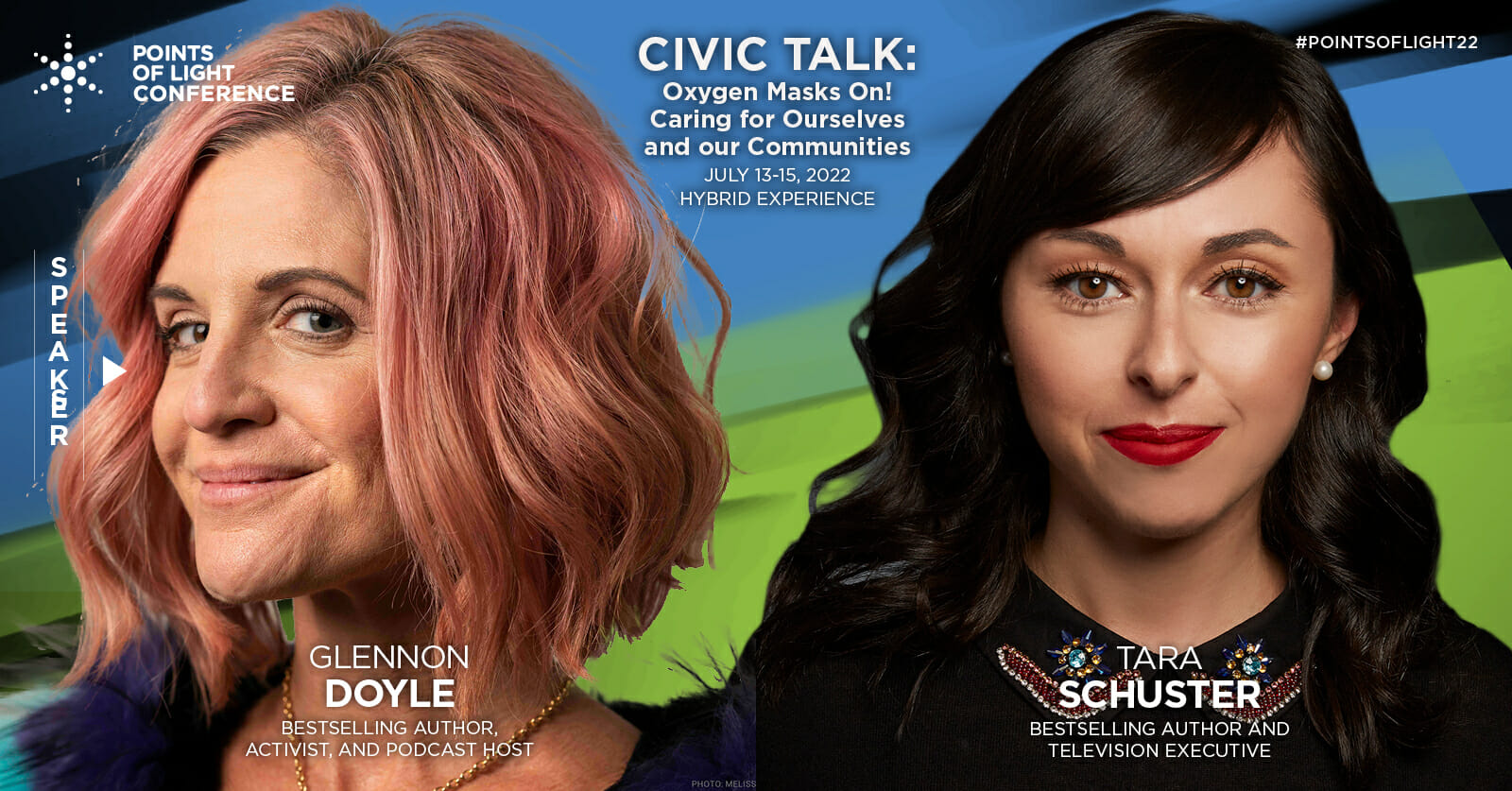 Anyone engaged in civic life — especially those who are employed in the nonprofit sector — face the risk of burnout and compassion fatigue. That's why it's so critical to consistently and intentionally take care of oneself while helping others. The 2022 Points of Light Conference will explore wellness through an array of featured speakers and special workshops.
Two of our most notable offerings include bestselling author, activist and podcast host Glennon Doyle and bestselling author and television executive Tara Schuster. The duo will be hosting a special Civic Talk titled "Oxygen Masks On! Caring for Ourselves and our Communities." This session will explore the ways we can care for our mental health and wellness while continuing to lead courageously. We offer inspiration for those driving transformative change who have served on the front lines of social good for the last two years of this global pandemic.
Glennon Doyle is the author of the #1 New York Times bestseller "Untamed," a Reese's Book Club selection, which has sold over 2 million copies. She is also the author of the #1 New York Times bestseller "Love Warrior," an Oprah's Book Club selection, and "Carry On, Warrior." In her "Untamed Journal," published November 2021, Glennon helps us each discover our own voice of longing and allows us to reclaim our true, untamed selves. An activist and "patron saint of female empowerment" (People), Glennon is the founder and president of Together Rising, an all-women-led nonprofit organization that has revolutionized grassroots philanthropy, having raised over $30 million for women, families and children in crisis. She hosts the "We Can Do Hard Things" podcast, which debuted as #1 on Apple Podcasts.
Tara Schuster was once best known as the executive in charge of the Emmy and Peabody Award-winning show, Key & Peele. Tara turned her struggle with chronic anxiety and depression into a best-selling book and a mission to help others. Her humorous takes on taking charge of one's mental health, always backed by empowering action steps, have won praise from readers ranging from Wharton professor Adam Grant to Academy Award-winner Anjelica Huston and best-selling author Glennon Doyle. InStyle, People Magazine, Cosmopolitan, Goodreads, BuzzFeed, Goop and many others have chosen her memoir as one of the best books of 2020.
Check our agenda for other workshops with sector experts that address specific issues and strategies around wellness. These conversations will bring inspiring ideas and experiences to the stage and offer deep learning and takeaways from innovative leaders. Join us for these powerful discussions on how to nurture your health and wellness so you can sustain your long-term work that's making an impact in the sector. If you're not yet registered, head over to our Points of Light Conference page. We'll see you July 13-15, 2022!
Share this post