President Barack Obama to Present George H. W. Bush with the 2010 Medal of Freedom Award Feb. 15, 2011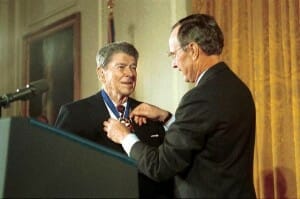 George H. W. Bush presents President Reagan with the Presidential Medal of Freedom in 1993
Today George H. W. Bush will be awarded the prestigious Medal of Freedom by President Barack Obama alongside 14 other renowned citizens.  In 1993 George H. W. Bush presented the Medal of Freedom to Ronald Reagan and now he himself is awarded for his civic service.The Medal of Freedom is a highly prestigious award that is given to individuals who make an especially meritorious contribution to the security or national interests of the United States, world peace, cultural or other significant public or private endeavors.  It is awarded to individuals selected by the current President or recommended to him by the Distinguished Civilian Service Awards Board.
You can watch the live stream of the ceremony taking place at the White House on February 15th; the recipients will receive their honors at 1:30 EST.
Some of the other awardees include environmentalist John H. Adams, poet Maya Angelou, and Holocaust survivor Gerda Weissmann Klein. In his announcement Obama commented: "all of [the awardees] have lived extraordinary lives that have inspired us, enriched our culture, and made our country and our world a better place."
George H. W. commented about the Freedom award in his Fox News 'On the Record' interview with Greta Van Sustern on February 9th: "I view it as a real honor. When Obama called me about it, I was thrilled. And I consider the Medal of Freedom a special thing… I'm emotional about service to the country. It is the highest honor that a president can bestow on anybody. And the fact that he's giving honor means a lot. And I told him so."
Aside from this honor George H. W. Bush along with Mrs. George H. W. Bush will be recognized in the Points of Light Institute Tribute event March 2011 for their extraordinary lives of service.
You can recognize a Point of Light in your life whose volunteerism has positively impacted lives and inspired you to serve by entering the Points of Lights Institute's Facebook contest.  You and the person you pay tribute to will have a chance to win airfare, lodging, and two tickets to the Points of Light Tribute event honoring President George H. W. Bush in Washington, D.C. on March 21, 2011. Contest Ends March 07, 2011 @ 11:59 pm (EST).
Share this post