Putting Purpose on the Red Carpet
This post is by Ayesha Khanna, founder of the Points of Light Civic Accelerator.
This Sunday is the 88th Academy Awards – #Oscars in Twitter speak – the world's biggest night in entertainment. Most years, I enjoy watching the Oscars from the comfort of a friend's couch. But this year, I've been invited to join our good friends at PwC to attend "Putting Purpose on the Red Carpet," their viewing party and red carpet event in Los Angeles to raise awareness on how purpose can drive powerful storytelling.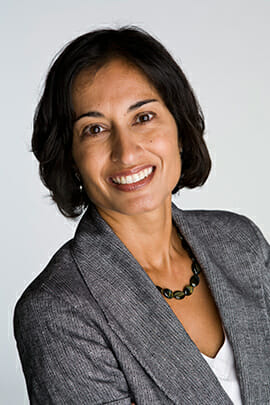 Ayesha Khanna
Instead of asking red carpet participants "Who are you wearing?" PwC will ask them about their purpose, and how they bring that purpose to life every day.
Now, where does purpose fit among the glitz and glamour of the world's most famous red carpet event? PwC is making the point that purpose is often the force behind the scene – the driving factor that motivates an actor, director or writer to persevere in the face of challenges to bring complex issues and powerful stories to the screen, and to make them accessible to audiences around the world.
In a nice twist, PwC will be interviewing not only big names, but also social entrepreneurs and educators – everyday people who have connected with their purpose to make a difference. I am excited to be a part of this creative effort by PwC to shed more light on how ordinary citizens are connecting to their purpose to bring about powerful change.
PwC is a founding supporter of the Points of Light's Civic Accelerator, the only startup boot camp and investment fund that focuses on "civic ventures," for-profits and nonprofits that include people as part of the solution to help solve critical social problems.
When I first received PwC's invitation, my first thought was – you guessed it – "does this mean I have to find an Oscar-worthy dress?" Cue the panic. But my next thought was that this would be a fun, unique red carpet moment and an honor to share my purpose, the driving force that imbues my work and passion for social change.
I thought back to the years after I graduated from college, when I worked in villages in India with an incredible group of elders and women from the community, local nonprofits, experts and nuns from Mother Teresa's order to build healthcare and education centers. This experience showed me how a small group of people, with many different talents and expertise, could make a big difference with limited resources. It was my first exposure to the idea that the innate desire to help others, along with innovative thinking and persistence, goes a long way to making big, bold and unimaginably good things happen.
As a President of the Civic Accelerator, I continue to live my purpose every day. Points of Light's mission is to inspire, equip and mobilize people to take action that changes the world. Through the Civic Accelerator, we are supporting social entrepreneurs in their journey to make big things happen. We provide training and an in-depth curriculum, working with expert faculty and mentors across our national networks. Our corporate partners contribute their assets to support the entrepreneurs and we invest $50,000 in the two top teams in each class, as determined by the entrepreneurs themselves.
One of the most gratifying parts of my work is seeing our impact multiply through the power of our entrepreneurs. In just four years since launching the Civic Accelerator, we have graduated 74 teams, and they, in turn, have generated more than $30 million in revenue and engaged almost 4 million people to help solve these issues.
PwC streamed live from the red carpet on the Huffington Post. Listen to Ayesha from Oscar night as she talks about her purpose and commitment to inclusive entrepreneurship.
Share this post