Reclaim the Legacy of 9/11 by Volunteering – Here's Something Anyone Can Do
What are you doing for the 9/11 Day of Service and Remembrance? Read this guest post from Jane Cosco, executive director of Operation Goody Bag, to learn about a simple way to help. And check out All for Good to search for volunteer projects near you. (If you're in the Washington, D.C., area, join Points of Light for a special service project.)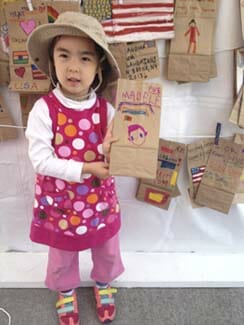 On Sept. 11, 2001, I walked into my classroom in Paramus, N.J., like it was just another day. At 8:35 a.m., our town, located just eight miles from New York City, was changed forever. On Sept. 12, I made a decision to allow my computer students to collect images from the Internet and place them into a PowerPoint project.
The next three days they worked quietly, expressing their grief and their fears on their screens. As the weekend approached, I instructed the children to ask their loved ones for a list of their favorite songs. On Monday, Sept. 17, they placed the music into their PowerPoint shows.
Sixth through eighth graders shared their work with classmates and teachers, families and first responders across the state. But, they felt they weren't sharing with enough "heroes." So, Operation Goody Bag was born.
Just a brown lunch bag, hand-colored and filled with a thank-you note, inspirational poem and candy treats. One delivery was made, and then the next, in total 1,783 in the first month. A job well done! But then the first thank-you note arrived and we were hooked. Goody Bags were shipped to the troops, to first responders in New Orleans after Hurricane Katrina and 5,000 to the children in Haiti after the earthquake.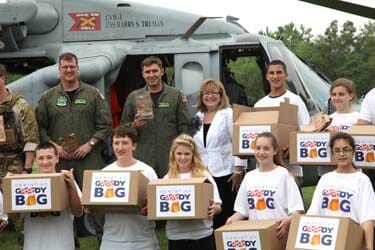 To date, more than 325,000 Goody Bags have been packed and shipped to say thanks to those who keep us safe. Sept. 11 may be remembered for the tragic act of evil, but more importantly, it should be remembered for a time when real heroes, without concern for their own well-being, sacrificed their safety to protect others.
On the 10th anniversary of Sept. 11, the Corporation for National and Community Service held a 9/11 challenge, and Operation Goody Bag got top honors, with over 17,000 volunteers coloring Goody Bags and writing thank-you notes to troops and first responders. This year, we are reaching out to all Americans to help us achieve a new goal: 50,000 thank-you notes in 50 states on 9/11!
To contribute a goody bag or letter year-round, visit the Operation Goody Bag website.
Share this post
---