Reflections from a 2012 Hasbro Community Action Hero

In May 2012, six young people were honored as Hasbro Community Action Heroes and recognized for their achievements in volunteer service and contributions to their communities and the world. Each of the six young people, who ranged in age from 8 to 16, exemplified Hasbro's commitment to the transformative power of service and embodied generationOn's mission to inspire, equip, and mobilize youth to take action that changes the world and themselves through service.
In today's post Nina Mahalingam, one of those six tremendous youth, reflects on her experience as a 2012 Hasbro Community Action Hero.
Several years ago, when I was just 3, my cousin invited me to help make plates and bowls for a shelter and soup kitchen. I thought it sounded fun and I wanted to play with the clay, but I was really surprised to find so many other people at the event. I was even more surprised that they were there to help other people without expecting anything in return.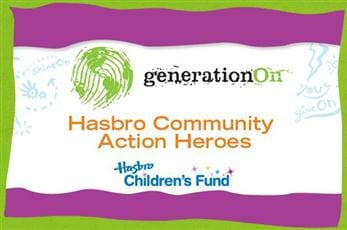 Since then, I have discovered that most help comes from people who volunteer. At the beginning, I sometimes felt nervous about helping because I was so young but I really enjoyed doing something good for others- you get a feeling of happiness that I can't really explain. I was impressed and inspired by my cousin Dylan so I started doing other projects like getting stuffed animals and books to children who never had much in their lives.
Two years ago, I heard about the tsunami in Japan and felt overwhelmed and sad with the news of so many children dying. I wanted to do something, something for the children whose homes and schools were destroyed. My dad encouraged me. With my cousin Aga's help, we decided we would make paper cranes as a symbol of hope. At first, we thought our "Wish upon a Crane" idea would help us get many people to make a few hundred paper cranes. But we had so much love and support from people all over the world, and not just in the malls and libraries we went to. I was amazed to see the amount of inspiration that many other people got, and they donated their time — just like I had for the plates and books — for this project. We were able to make nearly ten thousand paper cranes and raise money from those who could give. We shipped the cranes to Japan and I was humbled to receive letters of thanks from children, teachers, and even the Japanese Ambassador and President Obama.
We all have time to spend, but we also can give time. With inspirations like my cousin and support from my dad, I feel happy when I do things for others. There are so many people and children in need and I've learned that even my small community help has made a big difference in many people's lives.
It takes a little inspiration, a wish to make a difference, and a desire to help others, but we all have this inside us. I know that being a Hasbro Community Action Hero helped to inspire me to keep going and dream even bigger. I met other young people who were making a big difference and I knew that I wanted to do more. I worked with my cousins to create WalkingBooks, a program that helps bring books to children in remote areas without libraries. We've now distributed several thousand books and are still collecting!
I don't think that I'll ever stop giving. What will it take to inspire you to start?
Do you want to be a 2013 Hasbro Community Action Hero? The deadline to submit a nomination is 5pm EST today! Don't wait, read more and submit a nomination.
Share this post