Second Lady of the United States to discuss Joining Forces initiative as part of next greatest generation of service leaders

We are excited to announce that Dr. Jill Biden, Second Lady of the United States, will be joining us for the 2012 National Conference on Volunteering and Service. Dr. Biden is a lifelong educator, a proud Blue Star mom and an active member of her community. As Second Lady, she works to bring attention to the sacrifices made by military families, highlight the importance of community colleges to America's future and raise awareness around areas of particular importance to women.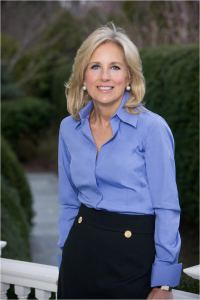 During our opening session, A New Generation of Service, Dr. Biden will discuss Joining Forces, the initiative she started with First Lady Michelle Obama last year as a way to encourage all Americans to honor, recognize and support our service men and women, veterans and military families.
Veterans and Military Families Track
Don't miss these sessions focused on supporting and engaging veterans, active service people and military families.
(3136) All the Way Home: The Blueprint for Meaningful Community Response – A Points of Light Community Blueprint Summit for Change
(2955) The Community Blueprint Network: Organizing Communities to Support Veterans, Service Members and Families
(2956) Solutions for Finding and Engaging Veterans in Service
(2484) From the Couch to the Cause: Leveraging Military and Civilian Online Networks
Click here to view all Veterans and Military Families track sessions and  register now to ensure your seat in these important discussions.
More Don't-miss Sessions
Social Media for Social Good (2881) – Presented by NTEN, with speakers Holly Ross and Amy Sample Ward
Faith and Neighborhoods In Action: Addressing Problems with tangible Solutions (2758) – With Joshua DuBois
Civic Fellows Leadership Exchange (2906) – With Susan Ellis

Share this post