Service as a Family Tradition – Four Generations Strong
This post is by Joyce Yamaato, vice president with Wells Fargo's Strategic Philanthropy and Partnerships Group. Her service in AmeriCorps led her to pursue a philanthropic career spanning 20 years.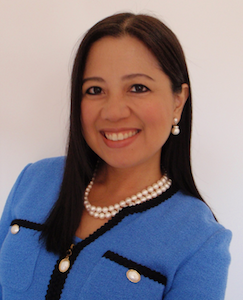 Joyce Yamaato
Service starts with family. Family in my culture is basically everyone. I remember growing up and having lots of "aunts and cousins." It wasn't until I got older that I realized that we weren't necessarily related!
Both my mom, Joylyn, and my grandmother, Alice, were very involved in the community. "Service" to them meant volunteering at church, making meals for those going through hard times and giving charitably. I work to pass on these same community values to my own children.
My mom and grandmother also gave back through teaching. My mom taught English overseas. At the time, she was the only female department head in the late 1960s and early '70s.
My grandmother taught sign language here in the United States. She received her master of arts in speech language pathology from the University of Alabama in the mid-1960s.
I've always thought of her as an adventurous woman. She went back to school to get her master's degree after her six children became adults. Her teaching career spanned 35 years.
My grandmother passed away last year at the age of 92. The photo you see below was the last one that I took with her during the holidays. I believe that her time teaching students of diverse abilities was one that she cherished the most.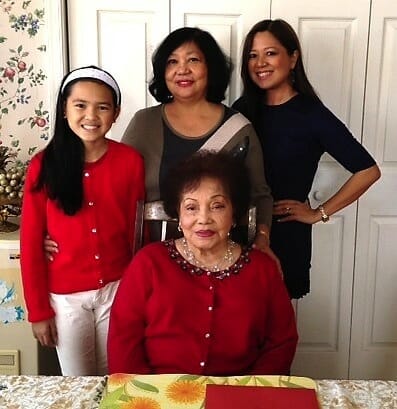 Joyce Yamaato, far right, with her daughter, mother and grandmother
It was also an experience that resonated with me when I decided to serve in AmeriCorps.
I remember how excited my mom and grandmother were when I first got accepted into the Literacy AmeriCorps New Orleans program. I taught English as a second language to immigrants and refugees, and they were extremely supportive of me throughout my year of service.
I found that they listened and asked questions a lot, mostly about my students and how I responded to their needs. I thought they would have been more prescriptive given their expertise in teaching! Instead, they generously – and gently – guided me as I figured out my own style of teaching and how to surface solutions on my own.
As a mom, I see my 12-year old daughter growing up to be community minded. I remember driving her and my son to volunteer at an emergency event simulation. I watched as they learned to set up a tent and how it can quickly become a shelter, an urgent health care center and a place to eat a nutritious meal in the aftermath of a disaster.
We talked about what it might be like for displaced children and refugees living in other countries.
Today, I see my daughter continue to develop as a local and global citizen, and a great role model for her younger brother. She's passionate about volunteering to support the rights of children and is also currently participating in a global classroom activity focused on access to clean water.
As my daughter grows up, I think how amazing it is to see the influence and community values of generations of women in my family reflected in her. I'm also inspired as I think about the collective impact we can make together in our communities.
I'm thankful for my mom and grandmother for setting me on a path toward servant-leadership, and AmeriCorps for giving me a chance to keep following it.
This post originally ran on the AmeriCorps Alums blog. If you want to volunteer with your family, check out these resources from generationOn.
Share this post