ServiceWorks Motors into Detroit with a Skill-Building Bootcamp for City's Youth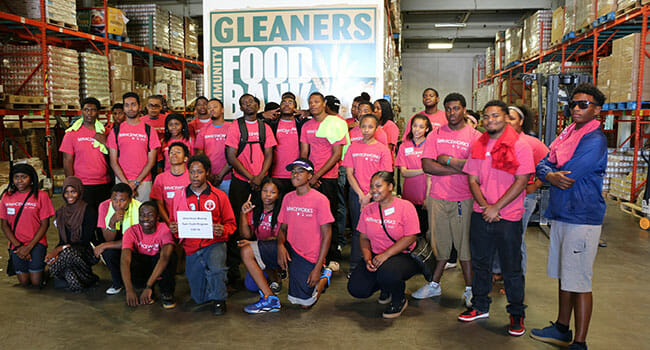 Few cities make a better place for ServiceWorks—a youth development program from Points of Light, the Citi Foundation and AmeriCorps—to step outside its original 10-city footprint (for the first time ever) than Detroit.
Battling one of the nation's biggest youth employment crises and home to almost 50,000 disconnected 16- to 24-year-olds that are not on a pathway to college or career, the Motor City has many changemakers working to address economic equality for Detroit's young adults.
With that pressing challenge as a backdrop, it was fitting that one of the first events to take place in the lead up to the 2016 Conference on Volunteering and Service was a ServiceWorks Skill-Building Bootcamp, designed to give participants—Service Scholars—an intensive one-day experience that touched on many of the critical skills needed to prepare for success in a 21st-century economy.
Never before had ServiceWorks put on a bootcamp in a city without an official program host site. By partnering with the Downtown Boxing Gym Youth Program, Points of Light was able to provide a transformative day of professional skills training and networking for more than 50 Detroit-area youth.
Delores Morton, president of programs for Points of Light, told the group why it's important to reach a new generation of potential leaders: "Young people see challenges in their community differently. They see problems and solutions from a different perspective."
More than 50 young people participated in workshops on:
Leadership and Team Building
Communication and Networking
Project Management
Goal Setting
Community Service
The skills they learned the would be able to put to immediate use, but for a young lady named Heather, there was an added benefit that could be long-lasting.
"I practiced looking people in the eye, smiling, learning how to do a firm handshake, learning how to write and speak correctly. And when you get to talking to people, that's when people break their shell, so I was also able to make new friends."
Like all ServiceWorks Bootcamps, the program included a volunteer service project. After a day of learning, the Scholars and AmeriCorps members went to Detroit's Gleaner's Community Foodbank to pack asparagus for those in need.
It was an impactful act of service for 18-year-old Kylynn: "I loved helping the families and giving back to people I can relate to. You get to help out the less fortunate. If you have more than them, it's better to give back."
On the frontlines of ServiceWorks are AmeriCorps VISTA members—guiding Scholars, recruiting volunteers and coordinating service projects. So "Service Unites" had a special meaning for the event— bringing together seven AmeriCorps members from six different ServiceWorks sites.
Working together for the first time, in an unfamiliar environment, it was powerful to see them united in service to a group of young people who were new to them.
One of those VISTAs is Anjie Diaz, part of the ServiceWorks team at The Door in New York City. After spending the day with a group of Detroit youth who'd made the effort to spend a Saturday bettering themselves and their neighborhoods, she came away impressed with their desire to be changemakers.
"I saw a lot of thoughtful social engagement. They're thinking about their community. And they're wondering about ways they might be able to enact some changes on their own. They want things to be better."
Share this post