Songs and Stories with a Purpose – What's Yours?
This post is by Tracy Hoover, Points of Light's CEO.
Tracy Hoover
A friend emailed me this week, asking if I had watched the Academy of Country Music Awards the night before — and specifically what I thought of Tim McGraw's show-stealing performance of "Humble and Kind." According to my friend, it was "very Points-of-Light-y."
Lately girl-power anthems and controversial rappers have featured prominently in my playlist. But all things are possible with YouTube, so I checked it out online. I noticed the lights were low when McGraw started singing, and it seemed nearly everyone in the audience started to wave their cellphone-flashlights. Certain there were at least "a thousand points of light," I thought that must have been the "points of light-y" moment. But as I listened to the lyrics and watched the crowd react, I knew there was more to it.
Hold the door, say please, say thank you.
Don't steal, don't cheat, and don't lie.
I know you got mountains to climb but always stay humble and kind
When the dreams you're dreamin' come to you
When the work you put in is realized,
Let yourself feel the pride but always stay humble and kind …
As McGraw sang, a line of people started arriving onstage, and as the lights went up, their outward differences were apparent – age, gender identity, physical ability and cultural and ethnic diversity. And in that instance, their common ground became apparent, too – as McGraw's simple, profound call for kindness and humility resonated. Like rain on parched earth, that message must have been a welcome respite from the vitriol that is so pervasive in our national narrative right now. I found myself watching it again and again, and recognizing the many points of light – the singer and this message were definitely points of light that night, as were the individuals who came forward or just turned to the person beside them to nod and smile and embrace each other. On Twitter, #HumbleandKind started up, and my favorite tweet was this one:
Nice job @TheTimMcGraw In a world of 7 billion people could you imagine what we could accomplish if we were all #HumbleAndKind to each other

— Leigh Anne Tuohy (@LeighAnneTuohy) April 4, 2016
McGraw is part of a growing chorus of artists whose messages of purpose are resonating, and fans and follows are responding enthusiastically. For example, check out this video from Sugarland's Kristian Bush, "Trailer Hitch." The song became a wildly popular call to action for Goodwill Industries that inspired fans to "give it away" — whether that means money or the excess "stuff" we all have too much of — in order to help change someone else's life. As Kristian put it recently, "Almost everyone knows someone who is struggling to make ends meet … and giving away what you no longer need can help someone. That's pretty amazing to me." I think he's pretty amazing. If you'd like to help someone this way, search for a Goodwill near you.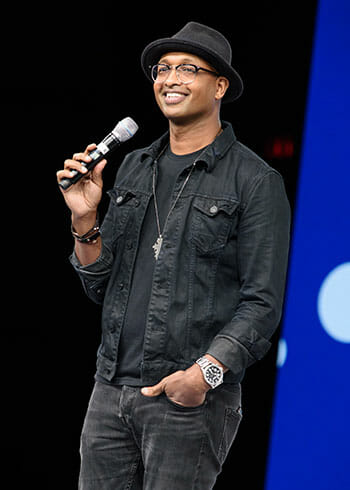 Kenna performs "Sleep When We Die" at Points of Light's 2015 Conference on Volunteering and Service in Houston.
Last fall, I met an incredible artist, Kenna, who seemed to personify this new generation of purpose-driven artist-activists. At Points of Light's 2015 Conference on Volunteering and Service, Kenna's talk about his fusion of art and activism ignited the crowd of 3,000 change makers. Their reaction to his song "Sleep When We Die" was just as strong as the ACM audience. And his response – equally memorable: "I want you to like my music," he said "but I want you to love my purpose." Check out his very cool talk and performance of "Sleep When We Die."
Next week is National Volunteer Week – it's a great time to celebrate volunteers. It's also a great time to start volunteering and discover how your unique talents and interests can make a big difference – and like Tim, Kristian and Kenna, how you can marry your passion and purpose. Next week, I'm looking forward to sharing stories of some very special points of light. And again this year, we're asking you to share your story on what inspires you to serve, with #NVW2016.
I've also decided it's time for a new playlist, and in honor of National Volunteer Week, I'm starting mine with the three songs above. I'd love to know what songs and artist-activists inspire you – share them using #SongsThatInspire.
Thank you for the unique ways you are making a difference in lives and in communities – for being a point of light.
Share this post