Startups Get $50,000 Each for Ideas Serving the Greater Good
A San Francisco company that teaches people how to raise money and a Chicago nonprofit that brings science, technology, engineering and math education (STEM) to students in low-income neighborhoods, were chosen by their peers to receive $50,000 each at the close of the spring 2014 Points of Light Civic Accelerator.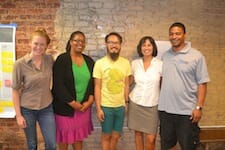 From left, Megan Christenson of the Civic Accelerator; Nzinga West of Project SYNCERE; Kenahn Jung of Piggybackr; Ayesha Khanna of the Civic Incubator; and Rashad Thornton of Project SYNCERE
The Civic Accelerator is a 12-week boot camp dedicated to boosting startups with missions that engage people as part of the solution to community challenges. This spring's 14 participating startups – a mix of nonprofit and for-profit enterprises – met in Seattle, New York and Atlanta for networking, mentoring and peer support.
During the last session on June 20 in Atlanta, the participants themselves picked the winners, which both focus on helping future generations succeed: Piggybackr, a for-profit company based in San Francisco that teaches teams of all ages and experience levels how to crowdfund, and Project SYNCERE, a Chicago nonprofit that has developed a STEM enrichment program for underrepresented students in grades four through 12.
Piggybackr plans to use the investment to reach more young people and communities across the nation so that funding is not a barrier. Andrea Lo, CEO and co-founder, credits the Civic Accelerator with helping her focus at a critical point in her venture's growth. Project SYNCERE Executive Director and co-founder Jason Coleman expressed his enthusiasm and shared how meaningful this investment was coming from his peers in the program.
Since launching two years ago, the Civic Accelerator – a program of the Points of Light Civic Incubator – has now graduated 48 startups, invested $500,000 in civic ventures, built a pipeline of more than 150 mentors, advisers and partners, and engaged more than 150,000 people in solving society's critical challenges in the environment, economic development and using technology for good. Each venture class is unique, having its own identity and feel.
Click here to view the spring 2014 graduating class and stay connected to our blog for updates and stories of success. The Civic Accelerator will be accepting applications for its fall cohort starting today. Visit www.civic-x.org for more information and to apply.
The Points of Light Civic Accelerator was launched in 2012, in partnership with Village Capital, and receives generous support from PwC Charitable Foundation and Starbucks Foundation, both founding partners, and from the Blackstone Charitable Foundation, SAP and the accelerator's official hotel sponsor, Hilton Worldwide.
Share this post