Are You Part of the Unprepared 85 Percent?
Read about how folks in Tampa, Fla., Indianapolis and Baton Rouge, La., are preparing for disaster. To help your family take action, visit Good & Ready, where you'll learn how to create a disaster plan, build a preparedness kit and more.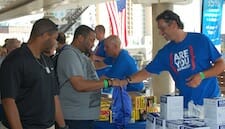 Kevin Sloan, center, and one of his sons receive a disaster preparedness kit in Tampa, Fla.
Charley, Frances, Ivan, Jeanne. Anyone who lived in the Tampa Bay area in 2004 remembers them well – the four hurricanes that battered Florida in less than six weeks.
Luckily the area was mostly spared, suffering power outages and some flooding. Those who moved to the area in the last decade have no memory of the constant hurricane watches and warnings that left people on edge for weeks. And even many who lived in the area during the storms have let their guards down.
"We want to engage people to get them to think about a hurricane," says Gus Rodriguez, an Allstate insurance agency owner in Belleair Bluffs, Fla. "Everybody's complacent. We live in hurricane alley."
Rodriguez was one of the Allstate agents taking part in a disaster preparedness event last Saturday before a Tampa Bay Storm arena football game. The event was part of a public awareness campaign and 14-city tour brought to town by the Allstate Foundation and Points of Light. On the same day, the tour also stopped in Indianapolis at PBS KIDS in the Park and Baton Rouge, La., at the Mall of Louisiana.
Sheila Ungerer of Indianapolis, holding her son Will, shares what she learned during a disaster preparedness event.
During the events, with the help of volunteers from Allstate and local affiliates of Points of Light's HandsOn Network, participants assembled their own disaster preparedness kits using items provided.
In blue sacks, the kits included water bottles, hand-powered flashlights that don't require batteries and other essentials. Participants and volunteers put together more than 2,000 kits at the three events combined.
"Eighty-five percent of us are not prepared for disaster," said Ranj Puthran, an Allstate agent from Carmel, Ind., who volunteered at the Indianapolis event. "We're so comfortable, and our first responders are so good, that I think we're almost lulled into comfortableness instead of preparedness. We need to take more initiative." (See a short video of Puthran here.)
The Indianapolis tour stop had special meaning for Emily Gilliland, executive director of HandsOn Network. An Indiana native, she has lived through two tornadoes.
"In 1979 I remember being at my grandmother's house in Westport, Ind., and saw a tornado coming down the street," Gilliland said. "My aunt's house, halfway down the block, was hit. The roof was taken off." (See a short video of Gilliland here.)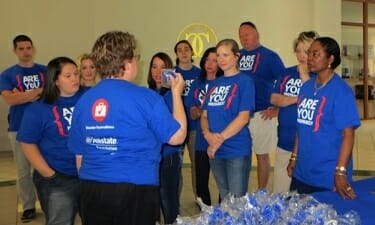 Baton Rouge, La., volunteers are briefed on how to assemble disaster preparedness kits.
As Gilliland spoke, people were lining up behind a row of tables at the Allstate booth, waiting to assemble their free preparedness kits. As they picked up the items volunteers explained the significance of each in an emergency situation.
The kits also included cards about tornado safety and other information, such as the need to have enough supplies on hand for at least three days in case of an emergency or disaster. Basic supplies include a gallon of water per person and non-perishable, easy-to-prepare food.
Sheila Ungerer, who moved to Indianapolis four years ago, learned at the event in her city about each of the items in her new disaster kit, which included a whistle.
"I'm from Virginia and my husband is from Syracuse, N.Y., and we know that tornadoes can happen here," said Ungerer. "I came away with some good tips. I didn't know about the whistle – that three short bursts means `help.' That's not only good for me, but good in case I ever hear it."
Having a kit is only part of being prepared, the participating Allstate agents in all three cities said. Also having an emergency plan in place is critical. If your town imposed an evacuation order, would your family know what to do?
"Education is a part of planning," said Baton Rouge volunteer and Allstate agent Agnes Andrews. "Education will take care of a lot of the problems that could occur in a disaster, because if you have things in order, you're less likely to have problems."
Along with emergency kits, "be sure to include some cash, not to be touched except in the event of a catastrophe like a hurricane," Andrews added.
Beth Dudley of Natchez, La., was visiting the mall on the day of the Baton Rouge event. "I stopped by to get a kit," she said, "because you can never be too prepared for an emergency. I've never experienced a natural disaster, so it's great that this event provides all the basic things people might need."
Share this post