`Service Unites' as Conference Sessions Encourage Cross-Sector Collaboration
Thousands of volunteer and service leaders from around the world have converged on Atlanta this week for the Conference on Volunteering and Service, inspired by the theme "Service Unites."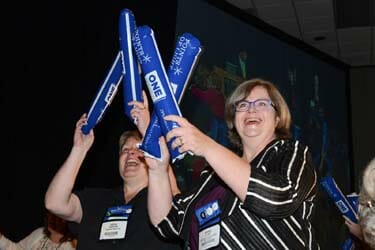 Today attendees of the Conference – sponsored by UPS – witnessed the principle in action, as dozens of educational sessions and forums focused on creating cross-sector alignment and new alliances to help address pressing community issues.
Speakers and attendees explored the relationship between the business and nonprofit sectors, looking for opportunities to expand skills-based volunteering while helping volunteer-driven organizations grow vital programs.
During the Business Track Opening on Building a More Creative Workforce, Virgin Unite CEO Jean Oelwang gave a TED-style talk about how companies are redefining the way they think about their volunteer programs, which help employees build skills they can use in their jobs and even in their personal lives. "We need every single person to be empowered with purpose right now," Oelwang said.
Later during the Business Track Luncheon, Points of Light honored The Advisory Board Company and UnitedHealth Group with the 2014 Corporate Engagement Award of Excellence.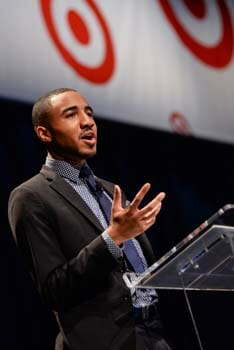 Nonprofits and social entrepreneurs will have the opportunity to bring key initiatives to scale, thanks to collaboration and support from corporate partners participating at this week's Conference. At the HandsOn Network Innovation and Social Impact Forum, sponsored by JPMorgan Chase & Co., four HandsOn Network affiliates took home a combined $100,000 in grants.
HandsOn Nashville earned the top grant of $50,000 for a program that makes low-income homes more energy efficient and safe, while the Volunteer Center of Santa Cruz (Calif.), HandsOn Twin Cities (Minn.) and HandsOn Genesee (Mich.) shared another $50,000 in grants.
The Civic Accelerator Demo Night showcased the work of startups aiming to solve pressing social and environmental issues. Ventures had three minutes to pitch inside the theater at the World of Coca-Cola to compete for some startup essentials from prize sponsors CSRwire, NEX Atlanta and more.
The Global Forum on Disaster Preparedness and Recovery, sponsored by UPS, offered an opportunity to discuss how various government agencies, nonprofits and individual volunteers can better cooperate to help communities prepare for disaster. Four U.S. mayors – Karl Dean of Nashville, Laurie Gill of Pierre, S.D., Edna Branch Jackson of Savannah, Ga., and Dayne Walling of Flint, Mich. – joined Corporation for National and Community Service CEO Wendy Spencer for a discussion about the critical role volunteers play when disaster hits, and the need for a plan to coordinate volunteers well before disaster happens.
Spencer later led a National Service Town Hall meeting that included a panel of AmeriCorps Alums who have each deepened their commitment to service in both the public and private sectors. She highlighted public-private partnerships, such as ServiceWorks and the Financial Opportunity Corps, which use national service to help solve our nation's most pressing challenges.
Conference speakers and attendees also discussed how to disrupt silos and engage more volunteers and strategic partners to support students. The Creating a Bright Future for Our Kids Forum, sponsored by Target, focused on the power of caring adults to affect the lives of young people and took a deeper dive into the complexities of mentoring. "Caring is important and necessary but not sufficient," said John Gomperts, president and CEO of America's Promise Alliance.
Mentoring was also a hot topic of conversation during a panel on Black Male Achievement that included actor and activist Lamman Rucker; Dillard University President Dr. Walter Kimbrough; civil rights and criminal attorney Mawuli Davis; MiWae co-founder and life coach Awo Thurmon; and mentor, community activist and entrepreneur Dakori Thurmon. The panel stressed the importance of mentoring and community support help create level playing fields academically and on the job.
"Regardless of what you do for a living, regardless of how much money you make… you have an opportunity to serve," said Rucker, who later in the day received the Daily Point of Light Award for his commitment to community service. "All you're doing is contributing to the dysfunction around you by thinking you can't have an impact."
Share this post