Storytelling, Systemic Inequities and Soul: The 3 S's of CSR
"This is what I can do. I can tell a story and make a difference."
— Diane Quon, Producer, Quonco Productions
Being in a room full of corporate social impact pros is always inspiring, and that was definitely true when the members of Points of Light's Corporate Service Council (CSC) gathered in Chicago last month before the official kickoff of the Points of Light Conference. The conversations were lively with folx reconnecting with peers and making new connections.
Although we stay connected via virtual meetings year-round, some of the best learning and inspiration comes from our in-person events. When we gather, fresh thinking and wise insights always flow from our guest speakers and peer conversations. I was scribbling fast notes to keep up with the great thoughts shared by our dynamic speakers, many of whom – like me – are Chicagoans and all of whom are doing good in the world, whether that is through academia, social entrepreneurship, filmmaking, storytelling or business.
More than 100 of us packed the room to hear from Dr. Nicholas Pearce, clinical professor of management and organizations at Northwestern University Kellogg School of Management and founder and CEO of The Vocati Group; Jahmal Cole, founder and CEO of My Block My Hood My City; and a panel moderated by Marianna Ruiz, executive vice president and executive creative director at Edelman, featuring Brenda Robinson, head of film finance and inclusion strategies at HiddenLight Productions, Diane Quon, producer at Quonco Productions, Mark Mitten, founding and managing partner of Mitten Media, and Nate Clark, global director of corporate social responsibility at John Deere and president of the John Deere Foundation.
Here are just a few of the top takeaways from our time together:
Pursue Purpose as a Pathway
Staying connected to your purpose, particularly as a CSR professional, is a daily pursuit. We must "connect soul to role," said Dr. Pearce, and really do the work we are built for as individuals. And even when you have connected soul to role, rest is essential. It's not a reward we earn after working until exhaustion; we have to work from and out of rest, not for it. On the days when your work feels like an uphill climb, when a program isn't having the impact you hoped or the business integration you know matters isn't materializing, that's when you most need to reconnect to purpose.
Learn and Lead Locally
Real and sustainable change happens at the hyperlocal level, but only if we start by listening and learning from the community. As CSR and employee volunteer programs go to scale or become global, the voices of the local nonprofits and neighborhood leaders can get lost, leading to systemic inequities going unaddressed. Jahmal Cole shared some powerful reminders about why the grassroots connection is key and encouraged all of us to conduct community asset maps before seeking to partner or program in a geography.
Stories on the Screen = Social Impact
Films can make us think or act differently, and that's especially true for documentary projects that introduce us to new places, people, and realities. As panelist Brenda Robinson said, "The first thing we [filmmakers] look at is how to you change minds and hearts with art." CSC member John Deere is one company that has leveraged filmmaking for social impact (learn about America's volunteer fire service in Odd Hours, No Pay, Cool Hat), but even if your company never makes a documentary, there are some transferable storytelling lessons all of us can learn from. One that's stuck with me: storytelling is about listening and learning, and that's the foundation for high-impact social action, and it can come in many forms, like your internal corporate newsletter, a panel conversation, a first-person share from a colleague or nonprofit partner, or even a social media post.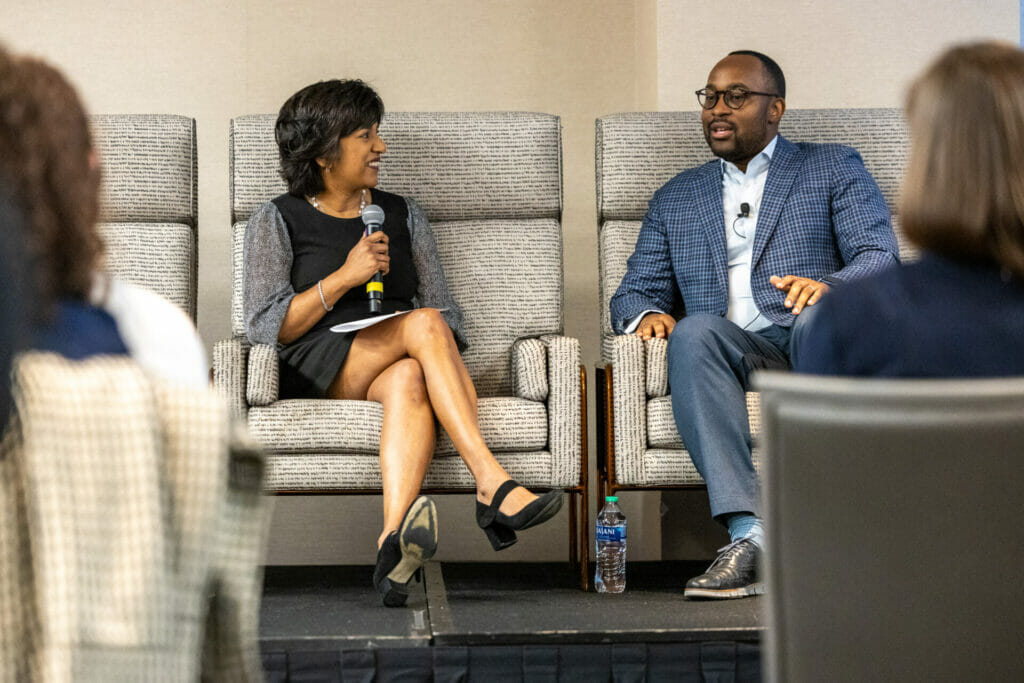 In our time together, we also announced our next Corporate Service Council chair: Anita Whitehead, president and chair of the KPMG US Foundation. Since the CSC started in 2005, our chair companies have played a critical role in leading the council and ensuring that we continue bringing together top brands, purpose-driven leaders and subject matter experts.
I'm looking forward to gathering with all the forward-thinking and purpose-driven CSC members at our next events to keep the conversation going. And if you want to be in the room where all this inspiration and learning happens, reach out – we'd love to have you.
Share this post