Supporting Yesterday's Warriors, Today's Scholars, Tomorrow's Leaders
This post is by Tyler Wright, who served in the U.S. Navy from 2008 – 2013 as a hospital corpsman. Wright assisted in manufacturing craniofacial prosthetics for wounded warriors and cancer survivors. After the Navy, Wright became an AmeriCorps VISTA member with the nonprofit Student Veterans of America in Washington, D.C., where he was subsequently hired as senior regional outreach director.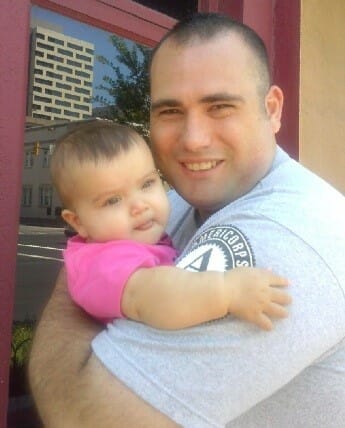 Proudly wearing an AmeriCorps VISTA T-shirt, Tyler Wright hugs a potential future AmeriCorps member, his daughter.
I was a hospitalman apprentice in the Navy when Hospital Corpsman Second Class Petty Officer Waite asked me a significant, life-changing question: "Are you in college?"
I paused for a moment, and then replied most ambivalently "No, not yet." This vacant response was immediately met with a steadfast stare and retort that I remember clearly, "What are you waiting for?"
He added, "Use Navy tuition assistance or lose it. Your choice." I had acquired a mere three community college credits before I joined the Navy, with a distant hope to one day obtain a college degree.
Fast forward four years later, and I am hanging up my uniform for the last time, leaving the Navy behind as a hospital corpsman third class petty officer. Five years of leadership experience and complex medical expertise trailed behind me, yet I was genuinely nervous about the transition.
I also entered the "real world," as we called it, with a bachelor of science in health care management, a master of science in administration, numerous allied health certifications and all but one course completed toward a graduate certificate program. I put in long hours with the Navy and went to school in the evenings and weekends, leaving me little time for luxuries. When I couldn't tap into tuition assistance, I paid out of pocket.
I also understood that while I had worked very hard in the service, I was also extremely lucky to be in a command that encouraged professional development opportunities; not all military orders allowed for academic enrichment. I felt obliged, and dare I say even some guilt, to give back to brothers and sisters in arms who were less fortunate.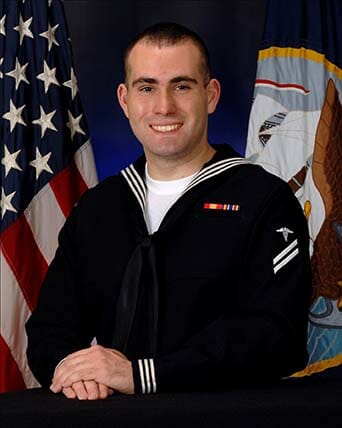 Tyler Wright, in his Navy days
I became an AmeriCorps VISTA member serving the nonprofit organization Student Veterans of America (SVA).
AmeriCorps VISTA and SVA made it possible for me to pursue my dream, albeit grandiose, of ensuring that every single veteran coming behind me would be taken care of on campus and guided in the right direction. I would be the guy that could navigate them through the G.I. Bill, CLEP exams, graduate admissions, apprenticeships, service school credit transfers – you name it.
Not only did I work one-on-one with veterans and their families, but I also built capacity within the ever-expanding network of SVA chapters established on over 1,000 campuses across the nation. They brought me veterans and gave me the tools to change lives, possibly even saving a few in the process.
After successfully completing my year of AmeriCorps VISTA service, I was hired by my host organization as senior regional outreach director. I have a seat at the table among pioneers crafting and executing the next natural phase of the SVA legacy – literally making history. I also oversee a number of VISTA members with diverse and unrivaled talent.
My U.S Navy-to-AmeriCorps VISTA story is just one of countless in the veteran community that follows such a pipeline of national service to success.
Now I'm thinking about going back for my doctorate. Many thanks go out to Hospital Corpsman Second Class Petty Waite, wherever he is serving today, for being the mentor that I needed at the time.
Read the original version of this post on the AmeriCorps Alums blog.
Share this post