Tackling Hunger Through Volunteer Power
Because of committed volunteers, Connecticut residents like Aaron – who was laid off from his job – don't have to go hungry.
"I'm speaking from the heart when I say that what you are doing is a wonderful thing," he said in a message regarding the Danbury Food Collaborative, whose volunteers promote and support the program's work. "Because of you, I never missed having fresh vegetables in my fridge and fresh food to feed my family."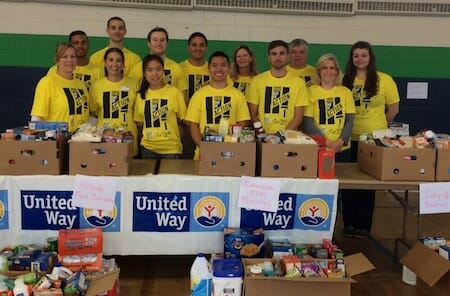 Danbury Food Collaborative volunteers at a food drive show some of the 3,100 pounds of food they collected to provide more than 2,600 meals to the community.
Food insecurity – the lack of access to enough food to fully meet basic needs at all times due to lack of financial resources – has become an increasingly large concern.
While many often associate Connecticut with wealth, the demographic makeup of Fairfield County and the city of Danbury in particular paints a different picture. Danbury is a melting pot of immigrant groups where nearly 35 percent of residents struggle financially. In Danbury Public Schools, more than 46 percent of children receive free and reduced-priced lunch.
As the local economy has been slow to recover, many individuals and families have found it difficult to put healthy and fresh food on the table.
To reduce suffering from hunger, the United Way of Western Connecticut, an affiliate of Points of Light's HandsOn Network, launched the Danbury Food Collaborative in 2013. One of its first projects was to publish a guide to inform residents where and when they can go to access food programs.
The collaborative currently has more than 20 member food pantries, soup kitchens and nonprofit partners – including a farmers' market – and city and university resources. The collaborative is now sharing resources such as volunteers, food donations among agencies, additional grant funding and new options for distributing more fresh, healthy food to clients.
Volunteers have been critical to the success of the Danbury Food Collaborative. The United Way of Western Connecticut coordinates volunteers from different organizations to pick up and drop off food at grocery stores and restaurants, rescuing fresh food that would otherwise be discarded.
The collaborative has issued more than 8,000 food guides, raised more than $60,000 in grants and donations, rescued more than 48,000 pounds of food from becoming waste and provided more than 40,000 healthy meals to those in need.
"The Danbury Food Collaborative has allowed our emergency homeless shelter access to more fresh fruits and vegetables for our clients," said Sue Zaborowski, the social service manager for Danbury's Department of Health and Human Services. "Having the ability to serve all types of fruits will help our clients stay in better health."
To learn more about the Danbury Food Collaborative, visit the United Way of Western Connecticut website. To find hunger-related volunteer opportunities in your area, visit HungerVolunteerConnection.org/volunteer-now.
Share this post